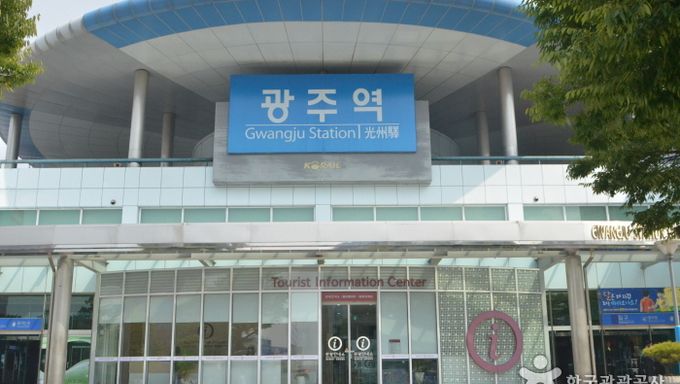 Introduction
Gwangju Station is the representative train station of Gwangju, a cultural and industrial city located in the southwest region of the Korean peninsula. The station opened its doors in 1922 and moved to its current location in July 1969. In 2004, it was included as a stop along the KTX (Korea Train Express) high-speed rail services. From the station, trains run to and from Yongsan Station (Seoul), Mokpo Station, Daejeon Station, and Suncheon Station.
Gwangju is the only metropolitan city in the southwest region of Korea and is an important node in the nation's transportation network. The city hosts a variety of international festivals and events such as the Gwangju Biennale (an international art exhibition) and the World Kimchi Culture Festival. As a result, Gwangju Station is bustling with tourists all year round.
Points of interest nearby Gwangju Station include Mudeungsan Mountain, Jeungsimsa Temple, and Wonhyosa Temple.
Address:
Gwangju-si Buk-gu Jungheung-dong 611-2[Google Map]
Homepage:
www.korail.comhttp://info.korail.com/2007/eng/eng_index.jsp
(Korean, English)
Transportation
Take a bus from U-Square to Gwangju Station.
Bus info: Munheung 48 (문흥48), Imgok 49 (임곡 49), Cheomdan 30 (첨단 30), Jiwon 151 (지원 151), 1187, Circulation 01 (순환01), Songam 47 (송암47)
Additional Info
tel: +82-1544-7788, +82-1588-7788
telname: Korail
zipcode: 61226
chkcreditcardtraffic: none
conven: 7 ticket vending machines, 2 snack bars, 1 bakery, 1 coffee shop, ATMs, 7 computers (pay per time used), nursing mothers' room, children's play room
disablefacility: Wheelchair lift, wheelchair rentals, restrooms for the disabled, braille signs, video calling (for the visually impaired), guides for the disabled
mainroute: Honam Line (Gwangju-Yongsan)
operationtimetraffic: 00:00-24:00 (Open 24/7)
parkingtraffic: 3 parking lots (parking fees apply; open 24 hours)
restroomtraffic: One restroom inside the station; separate restrooms for the disabled