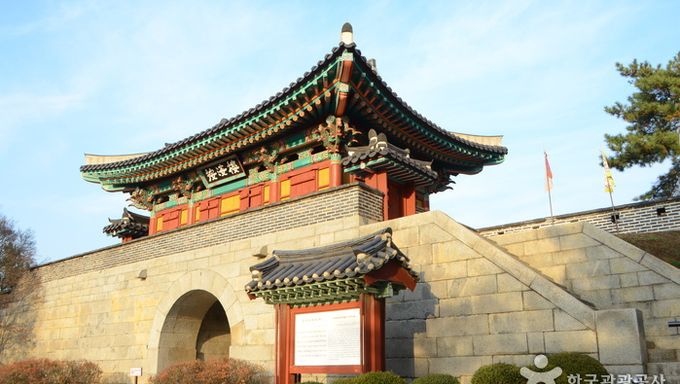 Introduction
Gwangseongbo Fortress's outer wall from the Goryeo era was mended in 1618. The fortress was built in 1656 and the outpost was constructed in 1679. It was completely remodeled into
a masonry castle with gates in 1745. During Sinmiyangyo (the American invasion in 1871), Gwangseongbo was the fiercest battle ground in Ganghwa. On April 24, 1871, a
fleet with 1,230 American naval forces led by Rear Admiral John Rodgers landed on Ganghwado Island to demand the
opening of Korea's ports and commerce. The armed forces attacked Chojijin Fortress
and Deokjinjin Camp, then marched to Gwangseongbo Fortress, where they engaged in close combat with the warriors of Joseon. Although General Eo Jae-yeon and the other warriors were poorly equipped with far inferior weapons, they bravely fought to the
death against the invading forces.
The battlefield ruins of the fortress and the gate towers such as Anhaeru, Gwangseongdon, Sondolmokdon, and Yongdudon were repaired
in 1977. The twin tombs of General Eo Jae-Yeon and his brother Eo Jae-seon, along with the anonymous tombs of warriors who died on the battlefield were
also honorably arranged at the same time. Furthermore, a stone monument commemorating the restoration of Ganghwa Battlefield was erected on Yongdudondae Post.
In 1988, an extensive rest area was created toward the shore for visitors' convenience. Gwangseongbo Fortress is presently designated as Historical Relic No. 227. A religious service known as Gwangseongje is held annually to commemorate the patriotic spirits of General Eo Jae-yeon and other unnamed warriors. This service takes place at 11 a.m. on every April 24th of the lunar calendar.
Address:
27, Haeandong-ro 466beon-gil, Bureun-myeon, Ganghwa-gun, Incheon[Google Map]
Closed:
N/A (Open all year round)
Homepage:
www.ghss.or.kr (Korean only)
www.cha.go.kr (Korean, English, Japanese, Chinese)
How To Use
Parking Facilities:
Available
Transportation
From Seoul to Ganghwa
1) Sinchon Station (Seoul Subway Line 2), Exit 4.
Go
straight 260m to arrive at the bus stop in front of Artreon.
From the bus
stop, take Bus 3000 to Ganghwa Bus Terminal.
2) Yeongdeungpo Station (Seoul Subway Line 1).
Across from Shinsegae Department
Store, take Bus 88 to Ganghwa Terminal.
From Ganghwa Terminal, take
the tour bus and get off at Gwangseongbo Fortress.
* Tour Bus Schedule: 08:30,
09:30, 10:30, 11:30, 12:50, 13:50, 14:50, 16:00, 17:00, 18:00, 19:10
Additional Info
Admission Fees:
Adults: Individuals 1,100 won / Groups 1,000 won
Children & Teenagers: Individuals 700 won / Groups 600 won
* Groups: 20 people or more
* Free admission: Children (ages 6 or younger) with one companion, Seniors (ages 65 or more), People with disabilities plus one companion (Proof required)
* Ganghwa-gun Main Tourist Sites Discount (up to 20% discount)
Main tourist sites: Chojijin Fortress, Deokjinjin Fortress, Gwangseongbo Fortress, Gapgotdondae Fortification, Goryeogung Palace Site, Peace Observatory, Hwamunseok Cultural Center, Ganghwa History / Natural History Museum, Manisan Mountain, Mudflat Center, and Hamheodongcheon Stream
- 15% discount: 3-4 sites
- 20% discount: 5 or more sites
* When choosing 8 sites or more, the ticket is valid until the next day
Restrooms:
Available
Interpretation Services Offered:
Not available
tel: +82-32-930-7070
zipcode: 23047
infocenter: • 1330 Travel Hotline: +82-2-1330
(Korean, English, Japanese, Chinese)

• For more info: +82-32-930-7070
usetime: 09:00-18:00