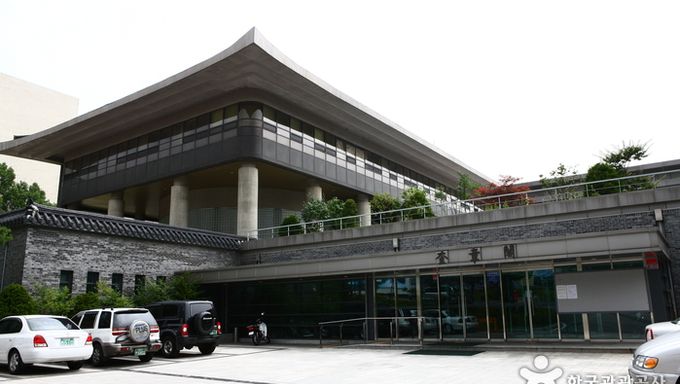 Introduction
Gyujanggak was founded in 1776 during the reign of King Jeongjo, the 22nd ruler of the Joseon Dynasty, at which time it was located on the palace grounds of Changdeokgung. It functioned as the royal library, which housed writings by the previous kings, their relics and books from home and abroad.
Today Seoul National University maintains the items of Gyujanggak in a Korean traditional house, Hanok, which is equipped with state-of-the-art facilities necessary for preservation of cultural heritages. Moreover, Gyujanggak Library of Seoul National University collects or publishes books from a variety of sectors such as politics, economy and society.
Gyujanggak now houses more than 280,000 items including 7 national treasures, 8 treasures, 180,000-plus old books, about 50,000 documents and 18,000 Chaekpan (printing blocks). Among them, Joseon Wangjo Sillok (the Annals of the Joseon Dynasty, National Treasure No. 151), Seungjeongwon Ilgi (the Diaries of the Royal Secretariat, National Treasure No. 303) and Uigwe (the Royal Protocols of the Joseon Dynasty) have been designated as UNESCO World Cultural Heritages. The exhibition hall in Gyujanggak is open to the public.
Address:
1, Gwanak-ro, Gwanak-gu, Seoul[Google Map]
Homepage:
kyujanggak.snu.ac.kr
(Korean, English, Japanese, Chinese)
How To Use
Admission / Participation Fees:
Free
Parking Fee:
Charged
Structure Size:
B1 ~ F4
Transportation
Seoul National Univ. Station (Seoul Subway Line 2), Exit 3.
Take Bus 5511 or 5513 and get off at the College of Law, Seoul National University Bus Stop.
Additional Info
Collections Status:
1) National Treasures: 7 annals (7,125 volumes)
Joseon Wangjo Sillok(Formal records of the Joseon Dynasty), Seungjeongwon ilgi(Daily
Records of the King's Secretarial Office), Bibyeonsa deungnok(Records of the
Office of National Defense Preparation), Ilseongnok(Records of the Diaries
of the Kings of Joseon), Samguk yusa(History of the Three Nations)
2) Treasures: 8 annals (28 volumes)

Woodblocks of the Gonyeojeondo(Map of the World), Moguja susimgyeol, Byeogyeok sinbang(New Prescription for the Treatment
of Epidemics)

3) Line of a Joseon King's handwriting, tablet, old map
Reservations:
Homepage
(Korean, English, Japanese, Chinese)
Foreign Language Intepretation Services:
Available in English
- Schedule: Monday-Friday 10:00, 11:00, 14:00, 15:00, 16:00
- Online reservation required in advance
tel: +82-2-880-6030
zipcode: 08826
infocenterculture: • 1330 Travel Hotline: +82-2-1330
(Korean, English, Japanese, Chinese)
• For more info: +82-2-880-6030
parkingculture: Available
restdateculture: National holidays
usetimeculture: 09:30-17:30