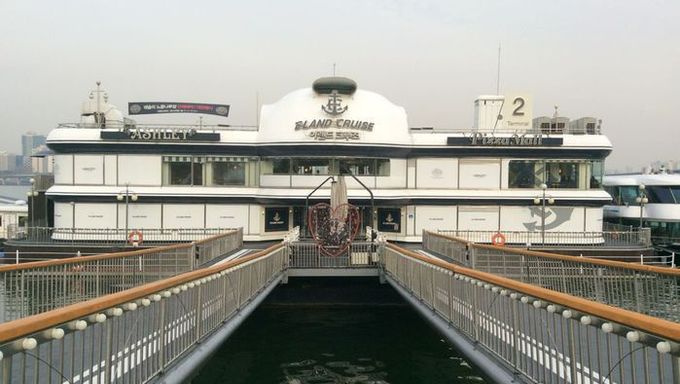 Introduction
Hangang River Ferry Cruise began operations on October 26, 1986, traversing the Hangang River as it runs through Seoul from east to west. The operation company, E-Land Cruise, currently offers river cruise programs from two ferry terminals, located in Yeonuido and Jamsil. Riders can see the beautiful Hangang River by day on the Story Cruise, or take in the city nightscape and colorful Banpo Rainbow Bridge on the Music Cruise. The Lunch and Dinner Buffet cruises provide delicious cuisine.
E-Land Cruise aims to develop a cruise theme park at Hangang River as the iconic attraction representing Seoul. It also aims to promote and familiarize Hangang River to international tourists as a world famous attraction. Visitors and Seoul residents alike can take a break from the busy urban atmosphere and enjoy a relaxing time while on the cruise.
Address:
290, Yeouidong-ro, Yeongdeungpo-gu, Seoul[Google Map]
Closed:
N/A (Open all year round)
Homepage:
www.elandcruise.com (Korean only)
How To Use
Parking Facilities:
Hangang Park Parking Lot 1 (in front of 63 Building, 86, Yeouido-dong, Yeongdeungpo-gu)
Transportation
[Yeouido Terminal]
Yeouinaru Station (Seoul Subway Line 5), Exit 3
- Go 300m straight out of the exit and turn down the path across from Yeouido Middle Shool.
- Follow the path to the Hangang River.
- The terminal will be about 200 m to your right.
[Jamsil Terminal]
Sincheon Station (Seoul Subway Line 2), Exit 6
- Go 700m straight out of the exit, passing under the highway, until you reach the Hangang River.
- The terminal will be about 200m to your left.
Additional Info
Tour Course Information:
[Yeouido Ferry Dock]
Story Cruise: Yeouido – Dangsan Iron Bridge– Yeouido (40 minutes)
Hangang River Tour Cruise: Yeouido – Jamdubong – Sangam – Yanghwa – Seonyudo – Yeouido
Lunch Cruise: Yeouido – Seogangdaegyo Bridge – Yeouido
Music Cruise, Dinner Cruise: Yeouido – Banpodaegyo Bridge – Yeouido
* Yeouido Dock is the main dock and the tour routes differ by season according to the operation of Banpo Bridge Rainbow Fountain.
* Group reservation (30 people) is available by phone.
Film Locations:
Drama "What's Wrong with Secretary Kim (2018)," "Tunnel (2017)," "Fated to Love You (2014)," "My Love from the Star (2014)"
TV program "Running Man (SBS)," "Infinite Challenge (MBC)," "Flower Crew (SBS)," "Welcome, First Time in Korea?," "Seoul Mate"
Shopping Information:
Terminal 1: Lotteria, Rubus Coffee, Cafe Lugo, CU

Terminal 2: Ashley Marine, CU, Mico Chicken
Parking Fees:
2,000 won for the first 30 minute / 300 won for each additional 10 minutes / 15,000 won for one-day
* Free for ferry cruise ticket holders on the day of the cruise
* Parking ticket stamp is available at the ticketing booth for general cruise ship and inside of buffet cruise ship for buffet cruise.
* Must present the parking ticket stamp in order to receive free parking. (Receipt is not accepted)
Restrooms:
Available
Reservation Info. for Foreigners:
Reservation is available via phone and website.
zipcode: 07337
expagerange: Open to visitors of all ages
expguide: Refer to the website for details.
infocenter: • 1330 Travel Hotline: +82-2-1330
(Korean, English, Japanese, Chinese)
• For more info: +82-2-6291-6900
opendate: October 26, 1986
usetime: Dock: 10:00-22:00
* Cruise operating schedule is available on the website.