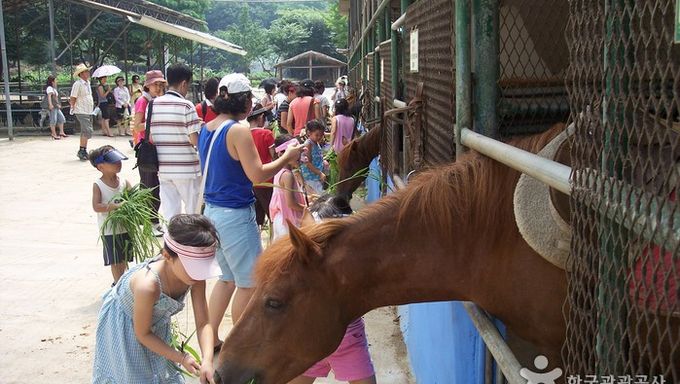 Introduction
Hanteo Pony Farm is a farm where children and family can experience farm aspects of farm life such as planting crops and attending to the needs of farm animals. Children can also pet ponies and experience horseback riding. During weekdays the farm hosts learning activities specifically for groups of children from kindergartens and elementary schools. During weekends it is a popular destination for families to come and enjoy farm life.
Address:
110, Daedae-ro, Yangji-myeon, Cheoin-gu, Yongin-si, Gyeonggi-do[Google Map]
Closed:
Seollal and Chuseok holidays
Homepage:
www.gohanter.com (Korean only)
How To Use
Parking Facilities:
Available
Transportation
Take the Bus No. 5600 or 5700 from Jamsil Station (Seoul Subway Line 2), Exit 6.
From Youngin Bus Terminal Bus Stop, transfer to Bus No. 82.
Get off at Jorangmal Nongjang (Pony Farm) Bus Stop.
Additional Info
Available Facilities:
Sports field, cafeteria, swimming pool, etc,
Restrooms:
Available
tel: +82-31-332-3695
zipcode: 17039
expguide: * Group experience (At least 30 people)
1) Spring experience program
Riding on a pony, planting tomatoes/ivies, riding on an oxcart, feeding animals, seeing mushrooms, snail and cricket experience, observing tadpoles and salamander eggs, A-frame carrier experience, observing crops, feeding horses, and recreational activities (only on weekdays)
2) Summer experience program
Farming potatoes, playing in the water, riding on a cart, feeding horses, observing crops, observing crickets and snails, and feeding animals (Optional: riding on a pony)
3) Autumn experience program
Riding on a pony, farming sweet potatoes, riding on an oxcart, feeding horses, experiencing old agricultural implements, snail and cricket experience, feeding animals, and recreational activities (Optional: rice-cake mallet pounding and farming radishes)
* Family experience
1) Spring experience
Riding on a pony, riding on an oxcart, experiencing old agricultural implements, feeding animals, observing tadpoles and salamander eggs, observing snails and crickets, feeding horses, observing crops, and planting herbs
2) Summer experience
Riding on a pony, riding on an oxcart, experiencing old agricultural implements, feeding animals, observing crops, farming potatoes, feeding horses, playing in the water, and observing snails and crickets
3) Autumn experience
Riding on a pony, riding on an oxcart, experiencing old agricultural implements, feeding horses, feeding animals, farming potatoes, and observing snails and crickets (Optional: farming radishes)
4) Ceramics/pottery experience
Coiling, throwing, ceramic carving, decorating pottery that has undergone the first firing process, and pinching
* Subject to change; call and make an inquiry before making reservations
infocenter: • 1330 Travel Hotline: +82-2-1330
(Korean, English, Japanese, Chinese)
• For more info: +82-31-332-3695
usetime: 09:00-18:00