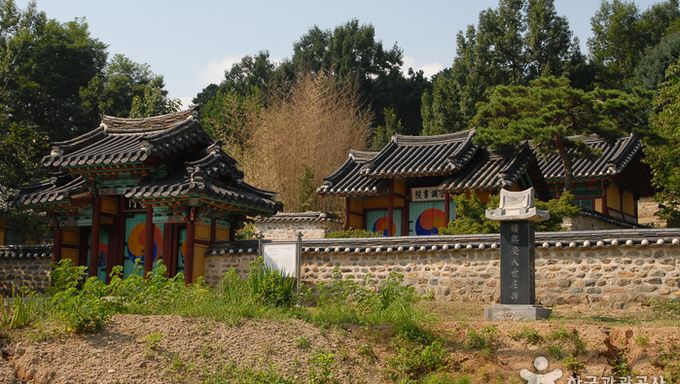 Introduction
Haposeowon Confucian School is where the tablets of Munseonggong An Hyang, a forerunner of Sung Confucianism from the late Goryeo era, are enshrined. It was first built in 1716 as Anjabyeolmyo Shrine by An Gyeong-sin, An Gyeong-in, An Gyeong-jeong, and An Gyeong-sang, who are the 15th descendants of An Hyang, and memorial services have been held there every year on March 3rd and September 9th on lunar calendar. In 1843, the shrine was renamed Haposeowon. The shrine was demolished upon the order of regent Daewongun during the reign of King Gojong.
Later, An's descendants rebuilt the shrine in Haposa Temple to perform memorial services for An Hyang. In 1931, additional buildings were constructed while descendant An Bae-ho held discussions with Confucian scholars about rebuilding the shrine. In 1949, the Confucian school was rebuilt with the consent of 218 Confucian schools nationwide.
Today, the Yeongi Confucian Scholars Association organizes memorial services for An Hyang on September 12 according to the lunar calendar.
Address:
262-6, Wonhapgang 1-gil, Yeondong-myeon, Sejong[Google Map]
Homepage:
www.sejong.go.kr/culturaltourism (Korean, English, Japanese, Chinese)
www.cha.go.kr (Korean, English, Japanese, Chinese)
Transportation
[Train]
Take KTX/STR from Seoul Station to Osong Station. From Osong Station, take a taxi for approx. 20 min.
Additional Info
tel: +82-44-211-4022
zipcode: 30134
infocenter: • 1330 Travel Hotline: +82-2-1330
(Korean, English, Japanese, Chinese)
• For more info: +82-44-211-4022