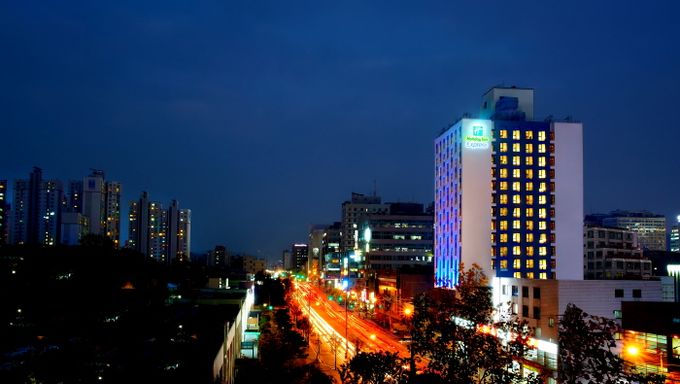 Introduction
Holiday Inn Express Suwon Ingye is InterContinental Hotel Group's (IHG) first business hotel to open in Suwon, Gyeonggi-do. Located at the center of the city, Holiday Inn Express Suwon Ingye aims to offer convenient services to tourists traveling within areas of Seoul and Gyeonggi-do. A total of 249 double and twin bedrooms take up the 3rd to the 14th floor of the hotel, offering a great view of the city park. All rooms are equipped with an i-Pod docking station and offer free Wi-Fi connection. Not only does the hotel provide free breakfast for in-house guests, but it also has a Grab & Go Bar where guests can enjoy a light meal as well as freshly brewed coffee.
Address:
116, Ingye-ro, Paldal-gu, Suwon-si, Gyeonggi-do[Google Map]
Homepage:
www.suwon.holidayinnexpress.com (Korean, English)
Transportation
From Suwon Station (Seoul Subway Line 1), Exit 9.
Take a taxi to Holiday Express Inn Suwon Ingye (estimated 12 min).
Additional Info
tel: +82-31-5177-0000
telname: Holiday Inn Express Suwon Ingye
zipcode: 16489
checkintime: 15:00
checkouttime: 12:00
foodplace: Breakfast buffet, takeout bar
infocenterlodging: • 1330 Travel Hotline: +82-2-1330
(Korean, English, Japanese, Chinese)
• For more info: +82-31-5177-0000
parkinglodging: Available
reservationlodging: Phone reservation +82-31-5177-0000
reservationurl: www.suwon.holidayinnexpress.com
roomcount: 249
scalelodging: 14F
subfacility: Fitness center, coin laundry, blue expressroom, meeting room