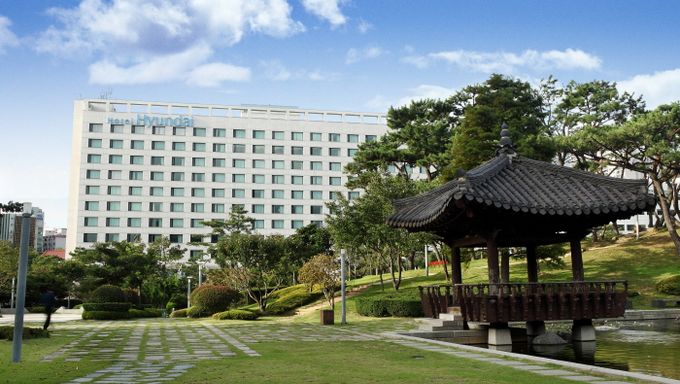 Introduction
Hotel Hyundai Ulsan is a business hotel, adjacent to Hyundai Heavy Industries, the top shipbuilder in the world, and a bathing resort on the beautiful eastern coast of South Korea. With a wealth of experience in hosting numerous international events, accommodating national guests and providing top class services, the hotel has been known as "Ulsan's Best Hotel" and "The Best Hotel for Business and Sightseeing" since it opened in January 1983.
Through continuous improvements and innovations, Hotel Hyundai Ulsan aims to continue to provide guests with the best quality services for happiness and comfort.
Address:
875, Bangeojinsunhwan-doro, Dong-gu, Ulsan[Google Map]
Homepage:
www.hyundaihotel.com (Korean, English)
Transportation
[Train]
Take a train from Seoul Station to Ulsan Station.
[Express/Intercity Bus]
Take a bus from Gangnam Bus Terminal to Ulsan Bus Terminal.
[Bus]
Get off at Hyundai Heavy Industries Bus Stop.
Bus No. 1401 or 5002.
Additional Info
tel: +82-52-251-2233
zipcode: 44033
checkintime: 14:00
checkouttime: 12:00
chkcooking: Not available
foodplace: Cafe & bakery, buffet, pub, Chinese restaurant
infocenterlodging: • 1330 Travel Hotline: +82-2-1330
(Korean, English, Japanese, Chinese)
• For more info: +82-52-251-2233
parkinglodging: Available
reservationlodging: Tel: +82-52-251-2233
www.hyundaihotel.com
reservationurl: www.hyundaihotel.com (Korean, English)
roomcount: 258 rooms
scalelodging: B1-12F
subfacility: Indoor swimming pool, sauna, fitness center, business room