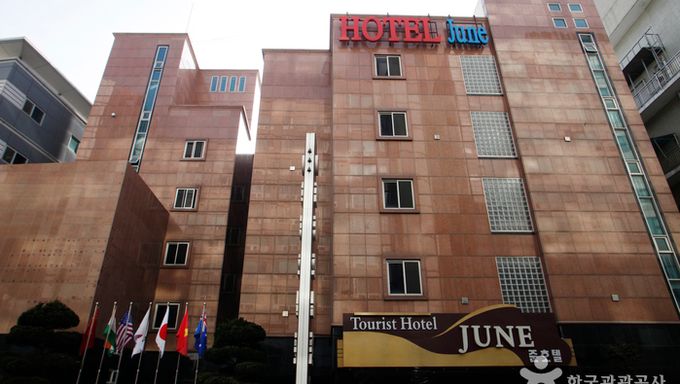 Introduction
Hotel June is named after the month of June, said to be a month of passion. Perfect for transit passengers, the hotel provides free shuttle services to and from the airport (roughly an 8-minute drive). In addition, the hotel employs a multilingual staff and offers free long-term parking and high-speed internet services.
Guestrooms at the hotel are decorated simply, but are cozy and come with all the latest facilities. At the 24-hour business center, guests can find desktop computers with high-speed internet, a fax machine, and other business services. The new concept fusion restaurant offers various international dishes and serves as a place of gathering among guests.
Address:
18, Sindosinam-ro 150beon-gil, Jung-gu, Incheon[Google Map]
Homepage:
www.hoteljune.com
(Korean, English, Japanese)
Transportation
[Subway]
Unseo Station (Airport Railroad), Exit 1.
Walk 90m to the 4-way intersection and turn right.
Go 100m and turn left onto Sindosinam-ro 150 beon-gil Road.
Go straight (50m) until you see the hotel on the left.
Additional Info
tel: +82-32-746-4417~9
zipcode: 22371
checkintime: 14:00
checkouttime: 12:00
chkcooking: Not available
foodplace: Restaurant
infocenterlodging: • 1330 Travel Hotline: +82-2-1330
(Korean, English, Japanese, Chinese)
• For more info: +82-32-746-4417
parkinglodging: 20 parking spaces (long-term parking available)
pickup: Available (24hr pick-up service)
Free Shuttle Bus
Shuttle Bus runs from Incheon International Airport to the hotel.
(Please call the hotel upon arrival. Tel: 746-4417)
* Since parking on the Arrivals Floor is very limited, guests are requested to wait for pick-up on the 3rd Floor (Departures Level) at GATE 3, 5, 7, 10 or 12 (whichever is closer to you). Shuttle bus will arrive within approx. 8-10 minutes after call is placed.
reservationlodging: Tel: +82-32-746-4417~9 / Online
reservationurl: www.hoteljune.com
roomcount: 48 rooms
roomtype: Double (2), Twin (10), Deluxe Double (14), Deluxe Twin (16),
Suite (4), Family Room (2)
scalelodging: B1-5F, outdoor parking lot & parking tower
subfacility: Business center