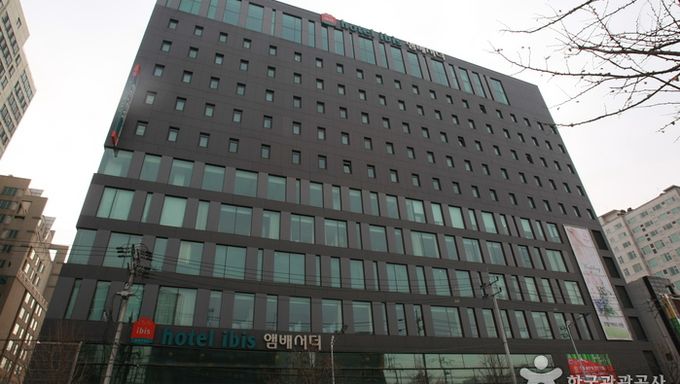 Introduction
Located at the center of the historic city of Suwon in Gyeonggi-do Province, Ibis Ambassador Suwon is the first and the only international hotel in Gyeonggi-do. 240 guestrooms are equipped with modern comforts such as free internet service, a LCD screen TV, a bidet, and an in-room safe, while subsidiary facilities include a fitness center and a sauna.
One of the big features of the Ibis Ambassador Suwon is the separated
management system. Guestrooms are operated by Ibis Hotel, while wedding and convention management is handled by Novotel hotel chain. Both are included in Accor Ambassador Group.
As for the guestroom operation, in order to provide high-quality, customized service at affordable prices, Ibis Ambassador cut out unnecessary services such as bell men, door men, and valet parking services, while the remaining services and facilities are tailored to meet the customers' expectations about comfortable accommodation.
Meanwhile, a wedding and convention center offers four meeting rooms equipped with the latest facilities, three wedding halls ready to hold special wedding ceremonies, and convention halls that come with luxurious facilities and service.
The Ibis Ambassador has a parking lot with 373 spaces, the largest one in Suwon. A restaurant called 'Provence' offers 120 international dishes. On the first floor, 'Le Parisien' bar offers guests affordable wine and beer as well as live band performances in a comfortable and romantic French ambience.
Address:
132, Gwongwang-ro, Paldal-gu, Suwon-si, Gyeonggi-do[Google Map]
Homepage:
www.ibissuwon.com (Korean, English, Chinese, Japanese)
Transportation
[Bus]
Start
from Suwon
Take Bus 13-1, 311, 80, 4000, 7002 or 3002 to Seoul Bojeung Boheom
Station.
Walk 130m toward Nongsusan Market Sageo-ri (4-way
Junction) until you see the Ibis Ambassador Suwon on the left-hand side.
Additional Info
tel: +82-31-230-5000
zipcode: 16491
checkintime: 14:00
checkouttime: 12:00
chkcooking: Not available
foodplace: Restaurant
infocenterlodging: • 1330 Travel Hotline: +82-2-1330
(Korean, English, Japanese, Chinese)
• For more info: +82-31-230-5000
parkinglodging: Available
reservationlodging: Available Tel: +82-31-230-5000 Online
roomcount: 240 rooms
scalelodging: B6-15F
subfacility: Meeting room, business center, gym, banquet, wedding & convention halls