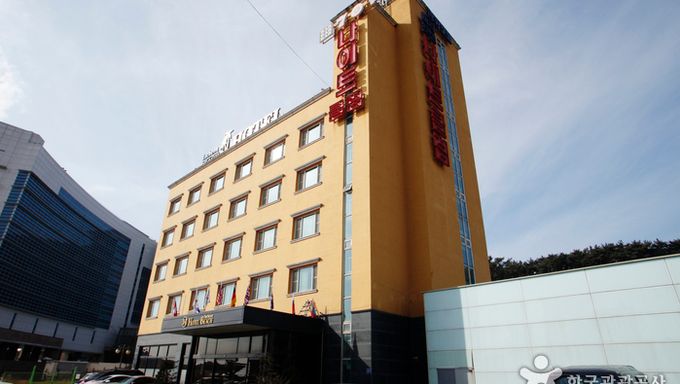 Introduction
Incheon Airport Beach Hotel is a good place for both travelers seeking some quiet time alone and those who want to spend time with friends and family.
Located just 15 minutes from Incheon International Airport by car, the Incheon Airport Beach Hotel is a good choice for travelers with early or late flights. It is also popular among summer vacationers visiting the neighboring Eulwangni, Wangsan, or Seonnyeobawi Beaches. The hotel operates a free shuttle bus to Incheon International Airport and nearby ferry wharves to the islands.
It has 60 guestrooms decorated with comfortable and convenient amenities for tourists and business travelers. Specially designed rooms for the handicapped are available on the 2nd floor. Subsidiary facilities include a night club, sports massage shop, and amusement arcade equipped with up-to-date facilities.
Address:
373-1, Yongyuseo-ro, Jung-gu, Incheon[Google Map]
Homepage:
incheonairporthotel.kr (Korean, English, Japanese, Chinese, Russian)
Transportation
From Incheon International Airport,
Take bus 302 or 306 at gate 2A, 9A on 1F or 306 and get off at Incheon Beach Hotel.
Or, take the hotel shuttle bus (travel time: 15min / phone reservation required).
Additional Info
tel: +82-32-751-1177
zipcode: 22383
accomcountlodging: 120 people
checkintime: 14:00
checkouttime: 12:00
chkcooking: Not available
foodplace: Restaurant, coffee shop
infocenterlodging: • 1330 Travel Hotlline: +82-2-1330
(Korean, English, Japanese, Chinese)
• For more info: +82-32-751-1177
parkinglodging: Available
reservationlodging: +82-32-751-1177 or online at incheonairporthotel.kr
roomcount: 60 rooms
scalelodging: B3-5F
subfacility: Outdoor bench