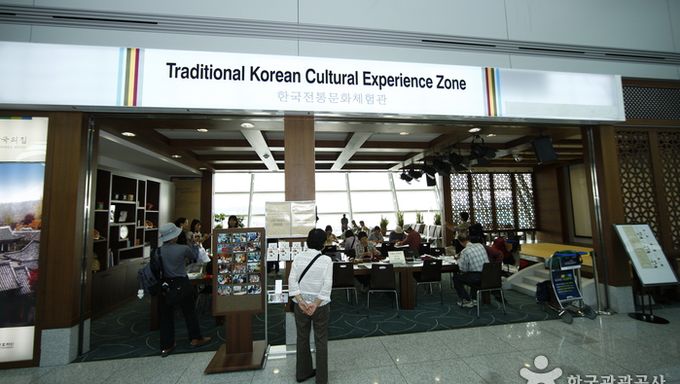 Introduction
The Incheon International Airport Traditional Culture Workshops are exhibition areas where traditional Korean culture experiential programs have been prepared for people awaiting flights departing from Korea, or for travelers waiting for connecting flights. Currently, there are two programs available in the exhibition areas, made available for all travelers using the third floor departure area.
Participants will be able to learn how to make jewelry boxes out of hanji (traditional Korean paper) or make cell phone straps using traditional sewing techniques that were used to make clothing and accessories. Even if you lack the skilled hands needed for
these crafts, anyone can follow the simple instructions provided in English, Japanese, and Chinese, and have fun at the workshops. Aside from these programs, there are special programs that are prepared for visitors every 3 to 4 months, such as drawing traditional patterns, coloring traditional Korean fans, and making small purses by using traditional knotting techniques.
You can also take a look at the traditional arts and crafts that are put on display in the exhibition areas as well. There are two traditional culture workshops located at Incheon International Airport in both the east and west wings.
The traditional culture workshops and traditional craftworks exhibition are provided free of charge for all interested guests. The craftworks exhibition is located diagonally across from the fourth floor departure area convenience facility, and is open 24 hours a day. Also, if you visit between the hours of 10:00 and 18:00 Monday to Friday, English guides will be available for your added convenience. At present, the exhibition is showcased under the theme of presenting over 70 arts and crafts, including traditional Korean ceramic ware, clothing, various accessories, and other traditional cultural arts made by skilled artisans.
Address:
Two locations near duty-free shop (East Wing: Gate 24 / West Wing: Gate 40), One location near Incheon International Airport 3F Departure Area 272, Gonghang-ro, Jung-gu, Incheon-si[Google Map]
Closed:
N/A (Open all year round)
Homepage:
www.airport.kr (Korean, English, Japanese, Chinese)
Transportation
[Subway]
Incheon International Airport Station (AREX Line)
East Wing - Located on the third floor departure area of Incheon International Airport, only 5m away from gate 24, next to the sign.

West Wing - Located on the third floor departure area of Incheon International Airport, about 5m away from gate 40, across from the coffee shop.
Additional Info
Restrooms:
Available
Interpretation Services Offered:
English, Japanese, Chinese
English guided tour for the traditional art crafts exhibition hall.
Monday - Friday from 10:00-18:00
tel: +82-32-743-0357,
+82-32-743-0359, +82-32-741-3215
zipcode: 22382
expguide: [Learning Programs]
Multicolored Folding Fans, Square Pincushions, Traditional Knots, Image rubbing (of a paper or an inscription), etc.
[Exhibitions]
Traditional Korean Crafts: Ceramics, Mother-of-pearl lacquerware, Wooden crafts, Chimseon (sewn clothing), etc.
[Hands-on activities]
Wearing raditional clothes and accessories/photography, etc.
[Performances]
Traditional Music (gugak): Sanjo, Traditional folk songs, Ensemble, Chamber music, etc.


* Available at no charge at Incheon Airport Traditional Culture Workshops for international tourists waiting for departure.
* Program availabillity and details are subject to
change, please refer to the airport's official website.
infocenter: • 1330 Travel Hotline: +82-2-1330
(Korean, English, Japanese, Chinese)
• For more info: +82-32-743-0357,
+82-32-743-0359, +82-32-741-3215
usetime: 07:00-22:00