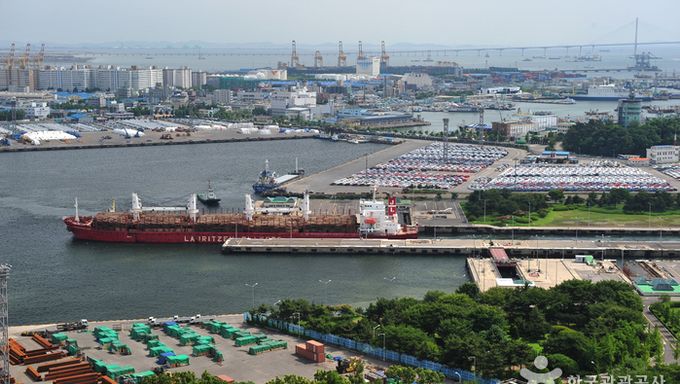 Introduction
Incheon Port Floodgate is located between the beautiful Wolmisan Mountain and Sowolmido Island. Surrounding the floodgate is a large 66,000 square meter garden covered with grass, pine trees, ginko trees, and cherry blossom trees, creating a beautiful scene. Especially in the spring, azaleas, royal azaleas, cherry blossoms, and magnolia blossoms are blooming, adding to the beauty of the garden.

If you visit when the floodgate opens, you will witness giant cargo ships and cruise ships passing through the gate to enter and leave the port. Also, at the situation room of the floodgate management office, an introductory video of Incheon Port is played to offer more information on the facility.

There are two floodgates at Incheon Port. One floodgate is 36 meters wide by 363 meters long. The other is 22.5 meters wide by 202 meters long. The larger one can accommodate vessels up to 50,000DWT and the smaller one can dock ships up to 10,000DWT. Per day, up to 20 vessels can enter and leave the port.
Address:
376, Wolmi-ro, Jung-gu, Incheon[Google Map]
Homepage:
www.icpa.or.kr (Korean, English, Chinese)
Transportation
[Subway]
Incheon Station (Seoul Subway Line 1), Exit 1.

-Walk along Jemulryang-ro, turn right after 100m and cross the street toward Wolmi-ro.

-Take Bus 45 at Dongil Apartment Bus Stop and get off at Gammun (갑문, water floodgate) Bus Stop. (5 bus stops)
Additional Info
Admission Fees:
Free
Restrooms:
Available
zipcode: 22305
expguide: [Port Tour]
-
Eligiblity: Visitors
related to port field and related-corporations and groups (15 to 40 people).
- Time: Monday-Friday 10:00-17:00 (closed
on Saturday, Sunday and National Holidays)
Fee: Free
※ School groups
are only allowed to tour the water floodgate for safety
reasons
- Duration:
Port Tour (1 hr): Incheon
Port Authority (accompanied by a guide) →
Visit floodgate (30 min) → Tour inner port (30 min)
Water Floodgate Tour (30 min): Floodgate (30
min)
※ All port tour groups are required to first visit the Incheon Port
Authority and must by accompanied by a guide.
[Waterflood Tour]
Time: Monday-Friday 09:00-17:00 (Closed on Saturday, Sunday
and National Holidays)
Object of visit: Watching ships entering or leaving through the floodgates.
※ If a group includes foreigners, a list must
be submited. (+82-32-770-4519)
※ Visitors must make a reservation at least 1
week in advance. If the registration overlaps, then, it is possible to be rescheduled.
infocenter: • 1330 Travel Hotline: +82-2-1330
(Korean, English, Japanese, Chinese)