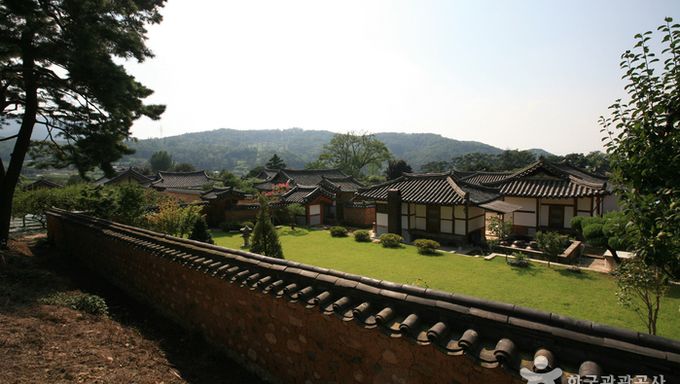 Introduction
The descendants of Mun Ik-jeom, who are known to have
brought the Nampyeong Mun clan to prosperity, reportedly came to Daegu about 500 years ago. It was during the time of Mun Gyeong-ho (1812-1874), the 18th descendant of Mun Ik-jeom, that the clan became established in Inheung. Mun executed his plan to create a village for the clan by putting down roots in the old site of Inheungsa Temple, a large-scale temple in the Goryeo era.
Yonghojae, which is a place for offering ancestral memorial services, is the first building established at the village constructed before or after 1920. The first residential building was built around the late 1800s in the form of thatched cottage. During
the course of a hundred years, the village developed into what it is today. Featuring about 70 or so tile-roofed homes, Inheung Village is only about 200 years old but it is a great example of traditional residential homes of the yangban upper class in the Yeongnam region. The harmony between the way the village is organized and the surrounding landscape is unique and rare.
Address:
16, Inheung 3-gil, Hwawon-eup, Dalseong-gun, Daegu[Google Map]
Homepage:
www.dalseong.daegu.kr
(Korean only)
Transportation
Daegok Station (Daegu Subway Line 3), Exit 1.
Walk straight to take Bus Dalseong 2 bound for Bon-ri 2 (본리 2) and get off at the Bon-ri 1-ri (본리 1리) Bus Stop.

Take a right to reach the village.
Or, From Daegok Station, we suggest taking a taxi to the venue.

(2.64 km away / the taxi fare will cost around 4,000 won.)
From Daegu Station, the taxi fare will cost around 18,000 won.
Additional Info
addr2: (Bolli-ri)
zipcode: 42967
infocenter: • 1330 Travel Hotline: +82-2-1330
(Korean, English, Japanese, Chinese)
• For more info: +82-53-627-8900