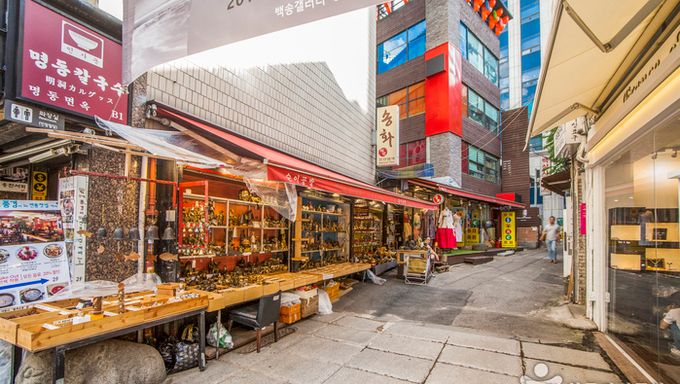 Introduction
Insa-dong has been situated at the heart of the nation's capital for over 600 years and was at the center of culture during the Joseon Dynasty (1392-1910). The Insa-dong area usually refers to the areas extending from the Anguk-dong Rotary to Tapgol Park in Jongno 2(i)-ga, past the Insa-dong Intersection. The notable features of Insa-dong are the countless alleys that branch out from the main street. Insa-dong has also become known as 'Merry's Area,' one of the favorite shopping spots among foreigners.

Over forty percent of the nation's antique stores are clustered in the Insa-dong area, and they
sell more valuable antiques compared to any other places in Korea. The price of the
valuables and souvenirs in this area can range from 10,000 won to some hundred million won. Among the antiques sold there are old pictures, pottery, wooden containers and jewelry. There is a variety of artwork varying from earthenware of the Unified Silla Era to white pottery of the Joseon Era. Foreigners from all over the world including Japan, China, France, and America frequent Insa-dong to witness a truly traditional Korean atmosphere.
Prices range greatly depending on the customers and the items. Old books are usually popular among the Japanese and Chinese tourists who can identify Hanja (Chinese characters). Antique books are purchased by many visitors, from history professors to antique collectors, at prices varying from 10,000 won to 30,000 won. Highly valued items are not sold and even if they are displayed in the store, as
some shopkeepers do not intend to sell them. Archaeology and history books are the most popular selections. Some items are priceless so shopkeepers often name their own price, but keep in mind that some stores do
have price tags to indicate products for sale. Tongmungwan is a representative store selling old books and has been run by a family for three generations. When you enter this small bookstore, you can see old books packed in rows. This bookstore was originally opened by the grandfather of the current shopkeeper, and is living proof of Insa-dong's long-standing history. This is definitely a place worth visiting even if you do not intend to make a purchase.
Traditional Korean ceramic ware is the main artwork Insa-dong has to offer. It is also the most popular item among tourists. Ceramic ware can be used in everyday life and many also consider it an essential decorative item. Ever since Queen Elizabeth I of England visited Insa-dong in April 1999 and praised the beauty of the ceramic art forms, many tourists from all over the world, including Europe, America, and Japan have become interested in them. Prices may start at 10,000 won, but can cost you up to some 10 million won. The most popular ceramic ware are pottery in the shape of a gourd bottle, costing anywhere from 100,000 won to 200,000 won. Keep in mind that the finer ceramic ware boast a clear color and have a clear resonant sound when tapped with the tip of your fingernail.
Famous shops include 'Park Young Suk Yo' where Queen Elizabeth paid a visit
and 'Haedong Godoja.' The main artwork offered are the common porcelain ware that have been recrafted, and pots of the Joseon
Era. 'Haedong Godoja' is known for selling the best quality ceramic ware.
'Goseohwa' (old paintings and calligraphic arts) is another main form of artwork offered in Insa-dong. There are shops selling old artwork along with oriental paintings, as well as modern paintings. Shops such as Dongmundang and Gonghwarang display and sell old paintings along with calligraphic works.
Antique furniture and other items are available at Naraksil and Gayajae. Naraksil offers great quality antique furniture such as bookshelves and bookstands, while Gayajae sells old pieces of furniture, stone Buddhas, and tiles. Other popular antiques can be found at 'Toto's Antiques' where there are contemporary articles from the period before and after the liberation of Korea from Japanese forces. Even though there isn't any traditional artwork at this store, Korean antiques are displayed picturesquely. Toto's Antiques seems to arouse nostalgia among its visitors, as it is decorated with old schoolbooks, toys, and ornaments from the 50's and 60's.
Sunday is designated a pedestrian-friendly day as cars are not permitted
in the area for on that day of the week. Instead, a flea market opens on this day to sell various antiques, accessories, artwork, and books. Traditional antiques from different parts of Korea as well as international antiques brought by foreign tourists are displayed throughout Insa-dong, allowing visitors to view many items in one glance. It is highly recommended that you visit Insa-dong on Sundays since you can also view the beautiful street art.
When shopping in Insa-dong, make sure you check where the product is made. Recently, cheap Chinese goods such as teacups, wall tapestries, and small accessories have been brought into the Insa-dong markets and there have been cases where merchandise thought to be made in Korea turned out to be marked as 'Made in China.' So
if you are looking to purchase only authentic Korean products, be sure to check
the label.
Address:
29, Insadong-gil, Jongno-gu, Seoul-si[Google Map]
Inquiries:
• 1330 Travel Hotline: +82-2-1330
(Korean, English, Japanese, Chinese)
• For more info: +82-2-732-2235~40 (Korean, English, Japanese)
Transportation
[Subway]
Anguk
Station (Seoul Subway Line 3) and Exit 6.
Walk towards Jongno Police Station and enter the Insa-dong main street (between Crown Bakery and GS25 convenience store).
Additional Info
tel: +82-2-732-2235
zipcode: 03149
opentime: 10:00am ~ (closing times varies with each store)
saleitem: Traditional Korean art products, traditional Korean antiques, and more