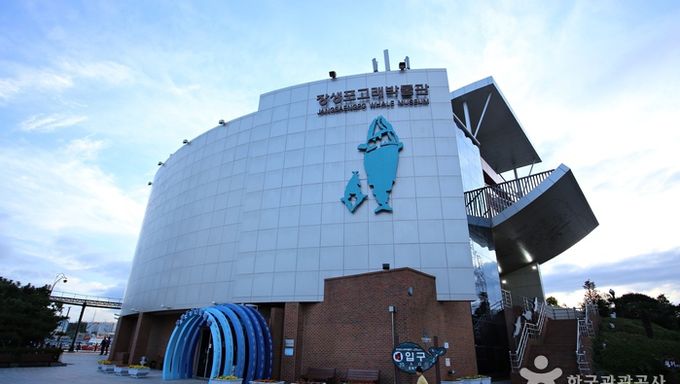 Introduction
The Jangsaengpo Whale Museum (opened on May, 31 2005) is the first and only whale museum in Korea and stands on what used to be a central area for the Korean whaling industry. After whaling was banned in 1986, 250 artifacts from whalers and the whaling industry were collected and put on display. Visitors can enjoy experience zones such as the Whale Belly Road or the Underwater Adventure Zone. Exhibitions include things like a Bryde's whale skeleton, a killer whale skeleton, a gray whale corner, and whaling ships.
Address:
244, Jangsaengpogorae-ro, Nam-gu, Ulsan[Google Map]
Length of Tour:
1hr-1hr 30min
Homepage:
www.whalecity.kr (Korean only)
How To Use
Admission / Participation Fees:
[Whale Museum]
Individuals - Adults 2,000 won / Teenagers 1,500 won / Children 1,000 won
Groups - Adults 1,500 won / Teenagers 1,000 won / Children 500 won
* Adults (age 19 or over) / Teenagers (ages 13-18) / Children (ages 3-13)
* Free (excluding 4D Media Center): Seniors (age 65 or older), people with disabilities, infants (younger than 3 years), etc. (IDrequired)
Parking Fee:
Free
Structure Size:
1F-4F / Area: 6,946㎡
Transportation
[Bus]
From Ulsanhang Train Station, go 300m east.
Take Bus 246 to Haegunbudae Apt. (in front of Naval Base).
Go straight (200m) until you see the Jangsaengpo Whale Museum on the right.
Additional Info
Program Information:
1,800 pieces: Whaling related artifiacts and historical records
Collections Status:
1,800 pieces: Whaling related artifiacts and historical records
Industry Information:
Special exhibitions on whaling culture, lectures on whales/whaling, etc.
Info. Services for Koreans:
Available
Foreign Language Intepretation Services:
Multilanguage audio guide and pamphlets available
Reservation for Foreigners :
Online reservations / Phone-reservation
Reservations:
Reservation requried for group tours of over 20
tel: +82-52-256-6301
zipcode: 44780
accomcountculture: 300 people
infocenterculture: • 1330 Travel Hotline: +82-2-1330
(Korean, English, Japanese, Chinese)
• For more info: +82-52-256-6301
parkingculture: Available
restdateculture: Mondays, Seollal (Lunar New Year), Chuseok (Korean Thanksgiving Day) and public holidays
* Closed days and operating hours subject to change. Check before visiting.
usetimeculture: 09:30-18:00
* Ticketing is until 17:30.