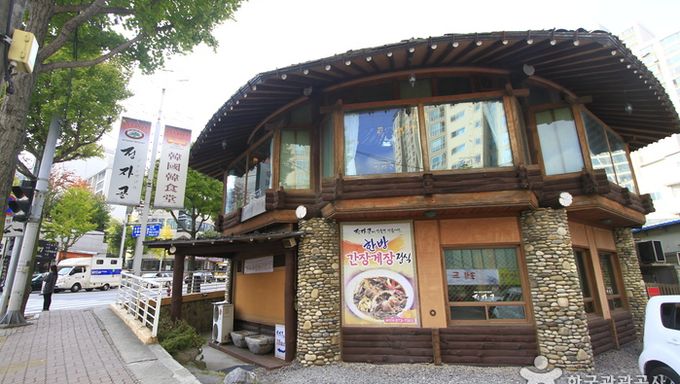 Introduction
Jeongjagol is a Korean restaurant located in Gwangju. The restaurant exudes a traditional Korean ambiance. The interior is adorned with floor-to-ceiling glass windows, decorations, and medicinal herbs. Its main menu item is its set meals that comes with porridge, salad, seasoned vegetables, bulgogi, grilled fish, braised meat dishes, dongchimi kimchi, fermented seafood, crab fermented in soysauce, and rice in sizzling stone pot. Also popular is the sogalbisal-gui (grilled beef short ribs), which is marinated in an organic sauce made with medicinal ingredients, pear, and honey.
Address:
105, Bongseon-ro, Nam-gu, Gwangju[Google Map]
Transportation
From Gwangju
Bus Terminal (U-Square), take Bus Munheung48 (문흥48), and get off at Bongseon
Samik Sageori (봉산삼익사거리).
* Bus schedule: 05:40-22:30, 24min intervals
Walk
down the Bongseonjungang-ro(봉선중앙로), turn right onto the Bongseon 2-ro alley(봉선2로),
and follow the Jeseok-ro(제석로).
Additional Info
tel: +82-62-673-7003
zipcode: 61683
firstmenu: Dolsot gejang jeongsik, Bulgogi jeongsik
infocenterfood: • 1330 Travel Hotline: +82-2-1330
(Korean, English, Japanese, Chinese)
• For more info: +82-62-673-7003
opentimefood: 11:30-22:00
parkingfood: Available
reservationfood: Tel: +82-62-673-7003
restdatefood: Chuseok (Korean Thanksgiving Day) & Seollal (Lunar New Year's Day) Holidays
(* Phone-inquiry required)
smoking: Non-Smoking
treatmenu: - Dolsot gejang gejang jeongsik (set menu with soy-marinated crab)
- Ssam bulgogi jeongsik
- Gungjung Jinsang bibimbap
- Gungjung beoseot jeongol (mushroom in a hot pot)
- Etc.