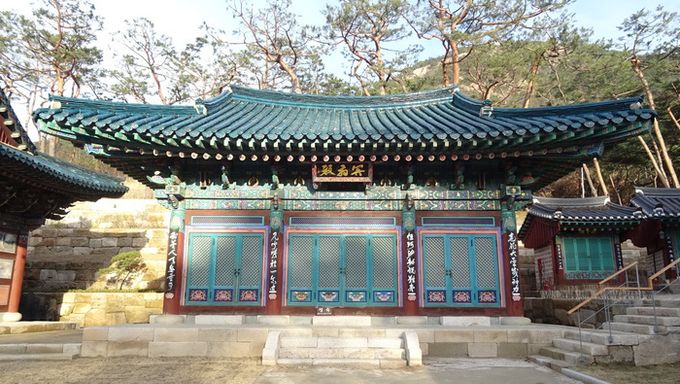 Introduction
Jingwansa Temple, located to the west of Seoul, is one of the four major temples around Seoul along with Bulamsa Temple, Sammaksa Temple, and Seunggasa Temple located to the east, south and north respectively. The temple was dedicated to Preceptor Jingwan in 1010 BC by King Hyeonjong, the 8th king of the Goryeo dynasty.
During the Joseon dynasty, King Sejong built a library in Jingwansa for Confucian scholars to visit and read. The temple was reduced to ashes during the Korean War, but since Jingwan lead as head monk in 1963, the temple buildings were restored and renewed for 30 years to the present day condition.
The temple consists of Daeungjeon (Hall of Sakyamuni), Myeongbujeon (Hall of Judgment), Nahanjeon, Chilseonggak, Nagawon, Hongjeru, Dongjeonggak, Dongbyeoldang, Yosache and others. Daeungjeon, the centerpiece of the temple, enshrines the god Sakyamuni (the main statue of Buddha) along with Mireukbosal and Jehwagalhwabosal on each side. Myeongbujeon is dedicated to Jijangbosal, Domyeongjonja, mudokgwiwang and Sipdae daewang while at Nahanjeon, the gods of Sakyamuni, Mireukbosal, Jehwagalla bosal, and Simnyungnahansang are enshrined.
The temple is not only neighbor to the beautiful surrounding of Bukhansan National Park, but also contains an impressive collection of cultural and historical properties. It also provides a quiet place for urbanites to enjoy all the while sharing the teachings of Buddha.
Address:
73, Jingwan-gil, Eunpyeong-gu, Seoul[Google Map]
Closed:
N/A (open all year round)
Homepage:
jinkwansa.org (Korean only)
How To Use
Parking Facilities:
Available
Transportation
[Subway+Bus]
Gupabal Station (Seoul Subway Line 3), Exit 3.
Take Bus No. 7724 and get off at Jingwansa Temple Bus Stop.
Additional Info
Interpretation Services Offered:
Not Available
tel: +82-2-359-8410
zipcode: 03308
expguide: [Temple Stay Program]
Relaxion type (meditation) (Adults or family are eligible for application)
Buddhist culture experience type (For adults)
Group type (For adults or students)
* Temple Stay for children
-Term: Summer/Winter vacation, during the period of special program
-Subject: Elementary school students (grade 1 to 6 years)
* Temple Stay for youths
-Term: Summer/Winter vacation, during the period of special program
-Subject: Middle/High school students
infocenter: • 1330 Travel Hotline: +82-2-1330
(Korean, English, Japanese, Chinese)
• For more info: +82-2-359-8410