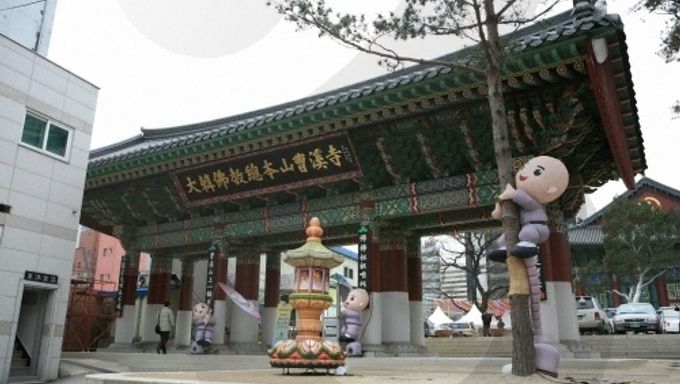 Introduction
As the main temple as well as the district head temple of Jogye order in Seoul, Jogyesa Temple is the center of Korean Buddhism. The temple was built in the late 14th century during the Goryeo period and was once turned into ashes due to fire and was rebuilt under the name of Gackhwangsa Temple in 1910 with the effort of many respectful monks, namely Han Yong-un and Lee Hee-gwang. The temple was given a role as the head temple of Korea's Buddhism and renamed to Tegosa Temple in 1936. In 1954, a purification drive took place to eliminate Japanese influence and revive traditional Buddhism, which established the present day Jogyesa Temple as a result.
Jogyesa Temple plays an important role in Korean Buddhism as the head temple of Jogye order. Jogyesa Temple's Dharma Hall serves as the main venue for several Buddhist events, holding rituals, lectures, ceremonies, and other events all year long. The annual lantern festival in celebration of Buddhist's birthday also takes place at this temple.
Address:
55, Ujeongguk-ro, Jongno-gu, Seoul[Google Map]
Closed:
N/A (Open all year round)
Homepage:
www.jogyesa.kr (Korean, English)
www.templestay.com/ (Korean, English)
How To Use
Parking Facilities:
Available (Limited parking space. Use of public transportation recommended)
Transportation
[Subway]

Jonggak Station (Subway Line 1), Exit 2.
Go straight for approx. 70m, cross the street and walk for approx. 100m to arrive at a path to Jogyesa Temple.
Additional Info
Admission Fees:
Free
Restrooms:
Available
Parking Fees:
[Inside Jogyesa Temple]
- 1,000 won for every 10 min.

* Discount coupon for Jogyesa followers: 1,000 won for 1 hr. (up to 3 hrs., after 3 hrs. 1,000 won for every 10 min.)

[Paid parking lot near Jogyesa Temple]
Seoinsa Madang Public Parking Lot: 800 won for every 10 min.
Jogyejong Chongmuwon Parking Lot: 3,000 won for one hour (1,500 won for additional 30 min. after)
telname: Jogyesa Temple Administration Office
zipcode: 03144
infocenter: • 1330 Travel Hotline: +82-2-1330
(Korean, English, Japanese, Chinese)
• For more info: +82-2-768-8600