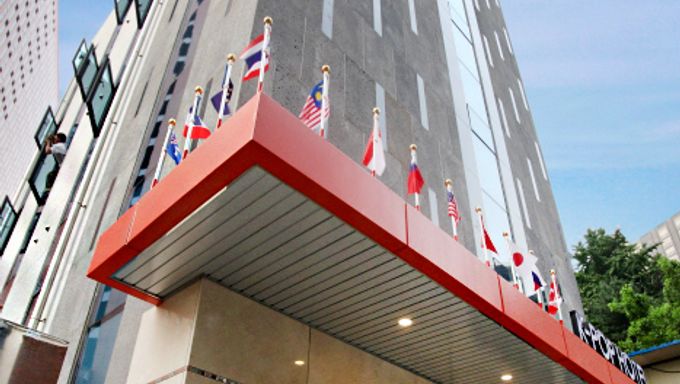 Introduction
K-Pop Hotel is only a 2-minute walk from Exit 10 of Seoul Station on Subway Lines 1 & 4. It's conveniently located near a number of tourist destinations, since it's a mere 10-minute walk from Sungnyemun Gate and only a 15-minute walk from Namsan Park. Gyeongbokgung Palace is only a 10-minute ride away, with Insa-dong located a mere 12 minutes away from the hotel. The 24-hour front desk provides express check-in and check-out services as well as a safe deposit box. Featuring Standard Double Rooms, Twin Rooms, and Family Rooms, the hotel is a great place to stay for business travelers and tourists traveling with friend or family. All the rooms are furnished with air conditioner, cable/satellite TV channels, flat screen TV, free Wi-Fi connection, and hair dryer. There is a rooftop terrace and a cafe where breakfast is served. The cafe is also furnished with kitchen, desktop computer, and washing machine, which can be shared among the guests. If you want to park your car more conveniently and quickly, notify the front desk of your arrival in advance.
Address:
16-17, Huam-ro 60-gil, Jung-gu, Seoul[Google Map]
Homepage:
www.kpophotel.co.kr
(Korean)
Transportation
Available
Additional Info
tel: +82-10-8774-5231
telname: Lee Min-jae
zipcode: 04637
accomcountlodging: 56 persons
checkintime: 14:00
checkouttime: 11:00
chkcooking: Not available
foodplace: Yes (Basement Lounge)
goodstay: 1
infocenterlodging: • 1330 Travel Hotline: +82-2-1330
(Korean, English, Japanese, Chinese)
• For more info: +82-2-773-2500
parkinglodging: Yes (2 cars), please inquire in advance.
pickup: Not available
reservationlodging: Available (+82-2-773-2500, kpop2500@naver.com)
reservationurl: www.expedia.co.kr, www.agoda.com, www.booking.com, https://www.ctrip.co.kr, HIS(https://www.his-j.com/Default.aspx), http://tour.interpark.com, www.coupang.com, www.ticketmonster.co.kr, www.wemakeprice.com, www.hoteltime.co.kr, www.hotelnow.co.kr, https://corp.dailyhotel.co.kr
roomcount: 26
scalelodging: 5 floors and 1 basement floor
subfacility: Food & Beverage Facility, Basement Lounge: Open 24 hours a day. Beverages (coffee, juice, etc.) are available. The lounge is furnished with flat iron, washing machine, shared kitchen, refrigerator, and desktop computer.