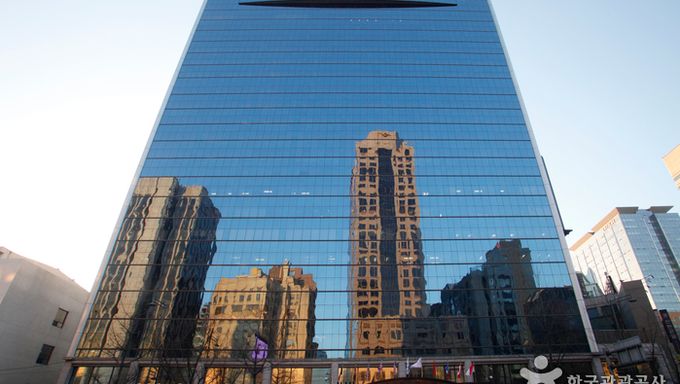 Introduction
Koreana Hotel
has been one of the top notch traveler's picks for more than 30 years,
having business motto 'comfort for our customers.'
The hotel is located at the Gwanghwamun
fourway intersection, at the heart of Seoul, and provides 345 guest rooms. Amongst its dining facilities, the hotel boasts a Korean restaurant, Chinese restaurant, Japanese restaurant, and a Western restaurant, as well as a bar, coffee shop and, bakery. Eight banquet halls and a sauna are also available.
The hotel has operated as the main press center restaurant for the 1988 Seoul Olympics, and subsequently operated as the Olympic Village Restaurant for the Special Olympics. As a result of their successful operations, the hotel received lavish praise from the organizers, as well as, from the players and staff for the high quality food and spectacular service.
Address:
135, Sejong-daero, Jung-gu, Seoul[Google Map]
Homepage:
www.koreanahotel.com (Korean, English, Japanese)
Transportation
[Limousine Bus]
From Incheon International Airport, take Airport KAL limousine Bus 6701 to the Koreana Hotel
(Gate East 4B, Travel time : 80mins)
[Bus]
From Seoul Station, take bus 150, 402, 501, 506, 8000, 405, 1711, 7016
or Jongno local Bus 09, 11
From Gimpo International Airport, take 601, 6001 to the City hall.
[Subway]

1) City Hall Station (Seoul Subway Line 1), Exit 3.
- Walk straight for 2mins.
2) Gwanghwamun Station (Seoul Subway Line 5), Exit 6.
- Walk straight for 2mins.
[Taxi]
Foreign traveller Taxi (Reservation required +82-1644-2255)
*
The taxi stop is located between Incheon International Airport Depature Gate 1 and 2.
Additional Info
tel: +82-2-2171-7000
zipcode: 04519
checkintime: 15:00
checkouttime: 12:00
foodplace: Western restaurant, Japanese restaurant, Chinese restaurant, Korean restaurant, bakery, bar
infocenterlodging: • 1330 Travel Hotline: +82-2-1330
(Korean, English, Japanese, Chinese)
• For more info +82-2-2171-7000
parkinglodging: Available
reservationlodging: +82-2-2171-7845-6 www.koreanahotel.com
roomcount: 337 rooms
roomtype: Western-style Rooms, Korean-style Ondol Rooms, Business Rooms, Suite Rooms
scalelodging: 23 ground floors, 2 underground
floors.
* More details on outlet information and rooms, please refer
to the official website.
subfacility: Business Center, Sauna, Wedding Hall, etc.