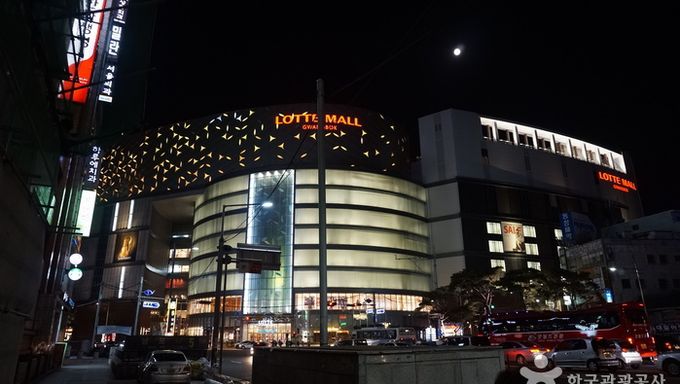 Introduction
Lotte
Department Store is one of Korea's major department stores, and Lotte Department
Store Gwangbok Branch is especially popular
for being the first seaside department store in the country. Located between
downtown Busan and the beach, it is scheduled to become Lotte Town by 2017.The
department store carries various domestic and international brands, as well
as houses various entertainment facilities. Lotte also manages various fast-fashion retailers like
Uniqlo, Zara, Mango, and Gap. Numerous high-tech gadgets like the latest smartphones, DSLR cameras, computers and more can all
be found and browsed in one location.

One of the major features of the Lotte Department Store at Gwangbok is The Editing Shop, which
displays fashion trends and styles selected specially by famous designers.

The world's largest indoor musical water fountain, registered
in the Guiness World Book of Records, can be found inside. Additionally, the
rooftop park, which is the largest in Korea, offers a great view of the entire
city of Busan. The rooftop alone can be a popular tourist attraction.

3-hours of free parking offered with purchases of 50,000 won or higher.

Address:
2, Jungang-daero, Jung-gu, Busan[Google Map]
Inquiries:
• 1330 Korea Travel Hotline: +82-2-1330
(Korean, English, Japanese, Chinese)
• For more info: +82-51-678-2500
Homepage:
store.lotteshopping.com
(Korean, English, Japanese, Chinese)
Transportation
[Subway]
Nampodong Station (Busan Subway Line1), Exit 10.
[Bus]
Take Bus 135, 15, 41, 70, 88A, 88B, 1004, 1000, or 1003. Get off at Busan Depateu Bus Stop.
You will see the Lotte Gangbok store 200 meters ahead.
Take Bus 103, 17, 26, 520, 70, 8, 87, 9-1, 1004, 1000, or 1003.
Get off at Nampodong Bus Stop.
You will see Lotte Gangbok 200 meters ahead.
(Follow Gudeokro Street northwest)
Additional Info
Facilities for the Handicapped:
Restrooms for people with disabilities, wheelchair rental, etc.
tel: +82-51-678-2500
zipcode: 48944
opentime: 10:30–20:00
parkingshopping: Parking available (1,200 spaces)
restdateshopping: N/A
restroom: Available on every floor
saleitem: International name luxury brands / Cosmetics / Clothing / Lingerie / Furniture / Household goods
shopguide: Main store

B1 Food court / Seafood restaurant

1F Luxury brands / Cosmetics

2F Young casual / Fashion accessories

3F Young casual

4F Womens casual / Handbags

5F Womenswear / Shoes

6F Menswear

7F Golf wear / Sports supplies

8F Children's wear / Lingerie / Event hall

9F Electronics / Kitchenware / Furniture / Electronics service centers / Gift card desk

10F Restaurants

11F Sky Park

12F Observation Deck

13F Coffee Shop
Aqua Mall

B1 Aquatic Show / Deli

1F Luxury brand handbags and watches, etc

2F Uniqlo / Shoes

3F Zara / Mango / A/X

4F Gap / Food court

5F Book store (YP Books) / Busan Bank

6F Kid's cafe / Hello Kitty and teddy bear store

7F Sportswear

8F Leisure / Sports

9F Clinics (dental, cosmetics) / Hair shop / Nail shop

10F Culture Hall / Gallery