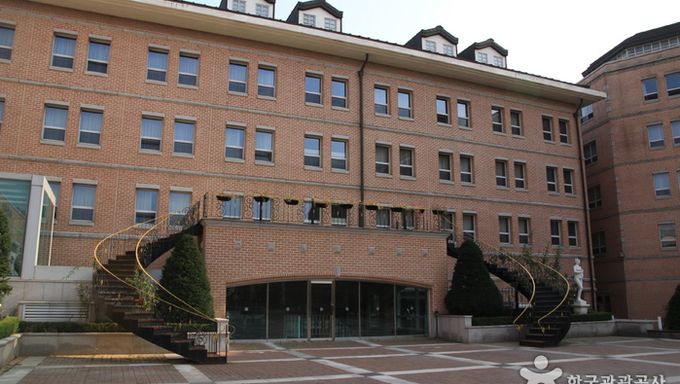 Introduction
Mayfield Hotel is an European style luxury boutique hotel located in between Incheon International Airport and downtown Seoul. It takes only 5 minutes from Gimpo Airport. Since the hotel is poised in the wood, it looks like a castle in Europe and the bell tower and garden add to the European atmosphere. Guests also can enjoy the fresh air from the pine tree grove.
The hotel has 8 building structures in a large 105785.60㎡ field. The main building with 6 floors and a basement floor is housing guestrooms, a lounge, a western restaurant, a traditional Korean restaurant, and an outdoor lounge. Another building is with large halls for international conferences and various events, while the other one is for wedding and wedding reception. It also has traditional wedding facilities.

The hotel offers a wide variety of rooms from one of its 202 cozy rooms including Ondol rooms and suite rooms. Subsidiary facilities include a fitness club, which is equipped with Korea's best facilities.
Address:
94, Banghwa-daero, Gangseo-gu, Seoul[Google Map]
Homepage:
www.mayfield.co.kr (Korean, English, Japanese)
Transportation
[Free Shuttle]
1) Songjeong Station (Subway Line 5), Exit 3.
2) Gimpo International Airport
• International Terminal (2F), Gate 1
• Domestic Terminal (1F), Gate 8, Bus Stop 7
• Shuttle Bus Schedule
[KAL Limousine Bus]
Departing from Incheon International Airport.
Limousine Bus Schedule
[Seoul City Bus]
Take Bus 650, 651 or 6628, get off at Gangseo Driver's License Examination Office.
Additional Info
tel: +82-2-2660-9000
zipcode: 07506
checkintime: 14:00
checkouttime: 11:00
foodplace: Michelen (buffet
restaurant)
Royal Mile (lobby lounge)
Nakwon (Korean restaurant)
Bongraejung (traditional Korean restaurant)
La Festa (Italian restaurant)
Yi
Yuan (Chinese restaurant)
Delice (bakery)
Club House
M Bar (bar & karaoke)
infocenterlodging: • 1330 Travel Hotline: +82-2-1330
(Korean, English, Japanese, Chinese)
• For more info: +82-2-2660-9000
parkinglodging: Available
reservationlodging: Tel: +82-2-2660-9000, +82-2-2660-9115
www.mayfield.co.kr
roomcount: 239 rooms
scalelodging: B1-6F, European Style (Area 105785.60㎡)
subfacility: * Fitness Club
• B1: Golf shop, shower rooms
• 1F: Swimming pool, scuba pool, sports equipment shop
• 2F: Spa, sauna
• 3F: Gym, squash & racquet ball courts, aerobics room
* Outdoor golf practice range: 8-Hole, Par 3
* Outdoor wedding plaza