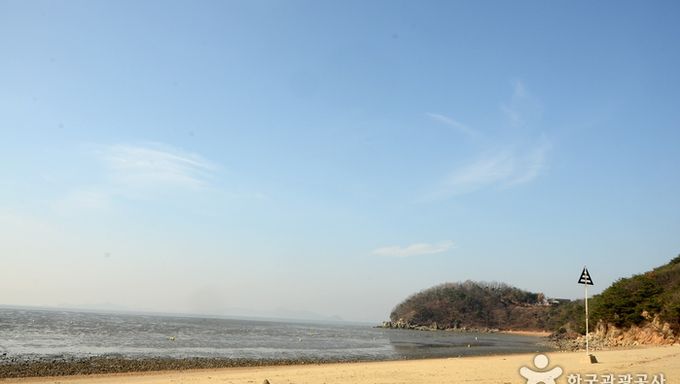 Introduction
Minmeoru Beach is the only beach on Seongmodo
Island, a small island to the west of Ganghwado Island. Visitors can enjoy sea-bathing on the vast stretch of sandy beach and watch
beautiful sunsets over the West Sea. When the tide goes out, a foreshore of approximately one kilometer in length appears. The foreshore is very smooth and is home to marine life including clams, crabs, and more. The Eoryujeonghang Harbor and Janggothang Harbor are located nearby, so visitors can also enjoy sea fishing. Popular tourist attractions in the vicinity include Maaekseokbul (a Buddha image carved on a cliff) and Bomunsa Temple, which is said to have been constructed by Queen Seondeok during the Silla period.
Address:
Eoryujeong-gil 212beon-gil, Ganghwa-gun, Incheon[Google Map]
How To Use
Parking Facilities:
Available
Transportation
From Ganghwa bus terminal, take bus bound for Oepori Port. (외포리선착장)
Take a ferry to Seokmodo Island.
Get off ferry and take bus bound for Minmeoru Beach or Bomunsa Temple.
Get off at Minmeoru Beach.
*The bus from Ganghwa bus terminal to Oepori Port departs every 15 minutes.
*Ferry departs Oepori Seonchakjang Port every 30 minutes (07:00 - 20:30) and costs 1,600 won round trip per adult.
*The bus bound for Minmeoru Beach comes every 2 hours. The bus bound for Bomunsa Temple departs every hour;
however, a 30 minute walk is required after getting off at the Minmeoru Beach stop to reach the beach.
Additional Info
Available Facilities:
Accommodations, shower facility
Restrooms:
Available
tel: +82-32-932-3001
zipcode: 23007
expguide: Mud flat experience
infocenter: • 1330 Travel Hotline: +82-32-1330
(Korean, English, Japanese, Chinese)
• For more info: +82-32-932-3001