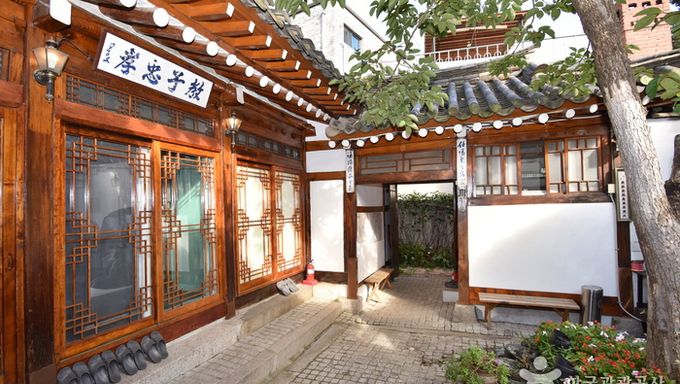 Introduction
Moggoji Guesthouse is a hanok homestay place located in Hyehwa-dong, Jongno-gu, Seoul.
The third generation of the family is currently residing in and managing the traditional 100-year-old house
in the traditional 100-year-old house. Situated in a residential area, there is little city noise; instead, the accommodation offers the
comfort of a private home, the scent of the 100-year-old tree, and a friendly atmosphere. There are four rooms: a room for two with a double bed; a room for three with a single bed and a double-deck bed; a Korean style room for two; and a room for six with two double-deck beds. The kitchen and living room are shared, and there is a bathroom attached to each room. Complimentary breakfast is provided to guests, consisting of toast, sandwiches, cereal, milk, coffee, and juice. In the living room are tools for traditional Korean play such as yut and yut board; traditional Korean wedding costumes are also offered free of charge. Hyehwa Subway Station of Seoul Subway Line 4 is a 10-minute walk away, and major attractions of the city such as Myeongdong, Dongdaemun, and Namsan Mountain can be reached within 30 minutes by public transportation.
Address:
13, Hyehwa-ro 16-gil, Jongno-gu, Seoul[Google Map]
Homepage:
Transportation
Available
Additional Info
tel: +82-10-9389-2837
telname: Jang Hui-ok
zipcode: 03067
accomcountlodging: 20 persons
checkintime: 14:00
checkouttime: 11:00
chkcooking: Available
foodplace: N/A
infocenterlodging: • 1330 Travel Hotline: +82-2-1330

(Korean, English, Japanese, Chinese)

• For more info: +82-2-744-2837, +82-10-9389-2837
parkinglodging: Available (3 cars)
pickup: Available (Hyeohwa Subway Station Exit 1; Airport Limousine Bus: Seonggyungwan Universtiy Bus Stop)
reservationlodging: Available (+82-2-744-2837, +82-10-9389-2837, www.moggoji-house.com)
reservationurl: www.airbnb.co.kr, www.agoda.com
roomcount: 4
roomtype: *Double Room / Korean Style Room / Room for 3 / Room for 6
scalelodging: 231.4m²
subfacility: The house features a terrace and a spacious yard as well as a shared kitchen area.