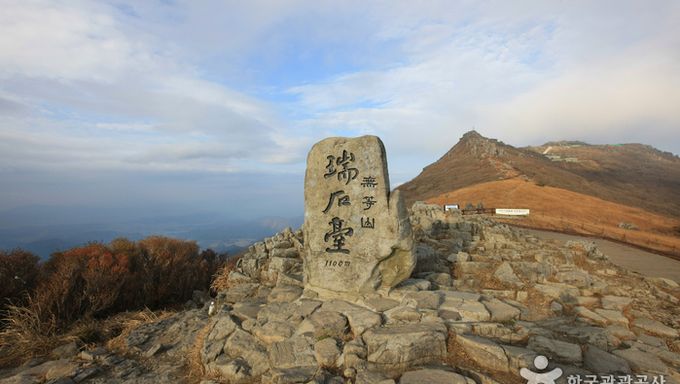 Introduction
Mudeungsan National Park is a mountain park lining the edge of Hwasun-gun, Damyang-gun and Gwangju. Mudeungsan Mountain (1,186m) features three rock peaks called Cheonwangbong, Jiwangbong, and Inwangbong, also known as the "Jeongsang Three."
Mudeungsan's gradual slope makes it an easy climb for all. Locals once worshiped Cheonwangbong Peak as it was considered a mountain of God. Among the more majestic of these sites are the Seoseokdae, Gyubong, and Ipseokdae peaks. At the base of the mountain are several famous temples including Yaksaam, Jeungsimsa, and Wonhyosa. Mudeungsan Mountain is also known for its beauty throughout the year. The autumn leaves of Gyubongam and silver grass of Baekma Ridge are quite spectacular. In the winter, snow and ice on the mountain create exquisite scenery as well.
Below the mountain, there are variety of recreational facilities and tourists sites for visitors. It includes Gwangju National Museum, a traditional Korean style building with exhibition space and artifacts on display. Total of 2,000 artifacts are in display including treasures excavated from the sea of Sinan, items from Honam province (made during the Seonsa, Baekje, and Silla periods), and paintings from the Joseon Period.
Address:
29, Dongsan-gil, Dong-gu, Gwangju[Google Map]
Closed:
* Subject to abrupt closures
Homepage:
mudeung.knps.or.kr (Korean, English, Japanese, Chinese)
Transportation
[Local Bus]
Gwangju Bus Terminal (U-Square Terminal).
- Take Bus 09 and get off at the entrance of Jeungsimsa Temple.
- Walk towards Mudeungsan National Park.
Additional Info
Mountain Not Access Period:
Seasonal Forest Fire Watches by Park
February 15 - May 15 / November 1 – December 15
* TBD by park directors based on fire weather advisories, snow/precipitation levels, and other local conditions.
Restrooms:
Available
tel: +82-62-227-1187
zipcode: 61494
infocenter: • 1330 Travel Hotline: +82-2-1330
(Korean, English, Japanese, Chinese)
• For more info: +82-62-227-1187,
+82-61-371-1187