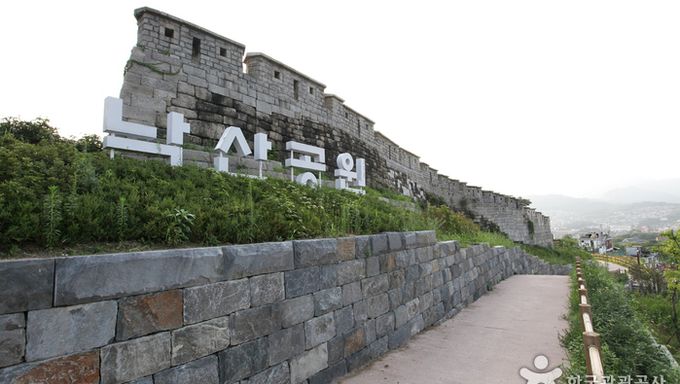 Introduction
Naksan Park gets its name from its camel hump-like appearance. In Korean 'nakta' means camel and 'san' means mountain. So people refer to the park as Nakta Park or Naksan Park. The mountain is a
solid granite bedrock. The Joseon royal family enjoyed the natural beauty of the granite mountain, but during the Japanese Colonial Period, a hasty manner of urban planning resulted in the demolition of most parts
of the mountain. In an effort to save the remaining green belts, Naksan was designated as
a park on June 10, 2002. Located in the center of the Seoul, this historical and beautiful park allows its visitors to view the magnificence of the entire city.
Address:
41, Naksan-gil, Jongno-gu, Seoul[Google Map]
Closed:
N/A (Open all year round)
Homepage:
parks.seoul.go.kr (Korean, English, Japanese, Chinese,
French, Spanish)
How To Use
Parking Facilities:
29 parking spaces
Transportation
[Subway]
Hyehwa Station (Seoul Subway Line 4), Exit 2.
- Go straight for 200m, then turn left onto Dongsung-gil Street.
- Go straight for 200m, then turn left at Lock Museum.
- Walk straight for 50m, then turn right onto Naksan Gongwon-gil Street.
- Follow the same street up the hill for 300m to arrive at Naksan Park.
Additional Info
Admission Fees:
Free
Available Facilities:
Hiking trail (1,010m), historical discovery path (935m), Biudang resting place, Hongdeogibat farm, observation deck, badminton court, basketball court, exhibition halls, playground, convenience store, pavilion, senior
citizens' center
Restrooms:
Available
Parking Fees:
300 won per every 10 min.
zipcode: 03085
infocenter: • 1330 Travel Hotline: +82-2-1330
(Korean, English, Japanese, Chinese)
• For more info: +82-2-2148-2842
opendate: June 12, 2002
usetime: 24 hours (Naksan Exhibition hall: 09:00-17:00)