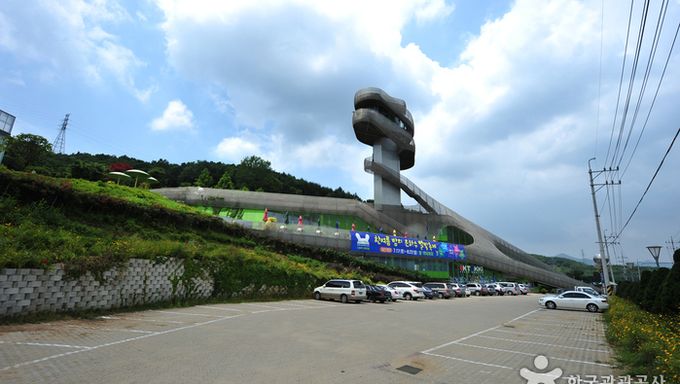 Introduction
Oktokki Space Center is Korea's first aerosepace theme park. The center collects, preserves, and exhibits materials related to aerospace engineering to educate and promote to the public. It is open to visitors all year round, offering diverse activity programs and experience rides that can be enjoyed by people of all ages. The center is especially well equipped with fun learning materials as well as educational programs to spark children's insterest in the field.
Address:
403, Ganghwadong-ro, Ganghwa-gun, Incheon[Google Map]
Closed:
N/A (Open all year round)
Homepage:
www.oktokki.com (Korean only)
How To Use
Parking Facilities:
Available (sedan 800 spaces, bus 20 spaces)
Transportation
[Subway + Bus]

Sinchon Station (Seoul Subway Line 2), Exit 4.
Go
straight for approx. 260m to arrive at the bus stop in front of Artreon.
From the bus
stop, take Bus No. 3000 to Ganghwa Bus Terminal.
From Ganghwa Bus Terminal,
cross the road to take Bus No. 700 and get off at Okgol bus stop.
From the
bus stop, go straight for about 200m and the center will be on
your right.
Additional Info
Shopping Information:
Korean restaurant "Black Hole", Cosmos retaurant, souvenir shop, Coco snack
Admission Fees:
[One-day ticket]
Infants (24-35 months) 8,000 won / Children (ages 3-12) 16,000 won / Teenagers & Adults (ages 13-65) 15,000 won / Senior citizens (age 65 & older) 12,000 won
[Peak season (July 27-August 18)]


Infants (24-35 months) 9,000 won / Children (ages 3-12) 17,000 won / Teenagers & Adults (ages 13-65) 16,000 won / Senior citizens (age 65 & older) 13,000 won
Available Facilities:
[Space Science Museum]
Exhibition Hall, Space Rides (six rides), 3D Movie theater, experience zone
[Outdoor theme park]
Dinosaurs Forest, Milky Way children swimming pool, sled field, Water Cannon Park, Robot Park, Rabbit Castle, Fountain of Deities, Observatory Deck
Restrooms:
Available
Parking Fees:
Free
Reservation Info. for Foreigners:
Purchase tickets on-site
tel: +82-32-937-6917
zipcode: 23046
accomcount: N/A
expagerange: Age 2 & older
expguide: 3D Movie Theater: Weekdays 10:00-16:30 / Weekends & public holidays 10:00-18:30
* 15 min. movie in 30 min. increment

* Closed from 12:00-12:50


Outdoor swimming pool: Weekdays 11:00-16:00 / Weekends & public holidays 10:00-17:00
* Hours subject to change during maintenance period


Four season sledding: Weekdays 11:00-18:00 / Weekends & public holidays 10:00-18:00
* 15 min. break time every hour
infocenter: • 1330 Travel Hotline: +82-2-1330
(Korean, English, Japanese, Chinese)
• For more info: +82-32-937-6917
opendate: May 2, 2007
usetime: 09:30-17:00