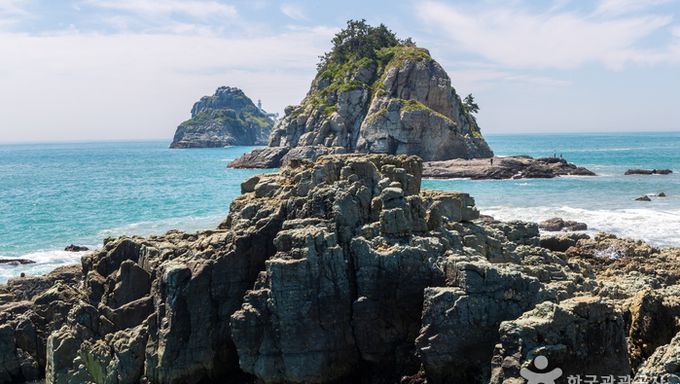 Introduction
Oryukdo Island refers to a group of rocky islands off the southern coast of Busan. Depending on the day and the tide, it may appear to be five islands or six islands, hence the name ('o' meaning five and 'yuk' meaning six in Korean). All of the five islands, except the one with the lighthouse, are uninhabited.
Oryukdo Island is composed of Usakdo Island, Surido Island, Gonggotdo Island, Guldo Island and Deungdaedo (Lighthouse) Island, but because the upper part of Usakdo divides into two segments, the island is sometimes known as Bangpaedo Island and Sol Island as well, depending on the level of the water. Because many ships coming to Busan Port pass by Oryukdo Island, it serves as a symbol of Busan's cultural heritage as well.
Address:
Oryukdo-ro, Nam-gu, Busan[Google Map]
Homepage:
www.busan.go.kr/geopark (Korean, English)
Transportation
[Bus]
Kyungsung Univ./Pukyong Nat'l Univ. Station (Busan Subway Line 2), Exit 5.
Upon exiting the station, make a u-turn, and turn right at the corner.
Walk for approx. 100m to the bus stop and take Bus No. 27 or 131 and get off at Oryukdo SK View Back Gate Bus Stop.
Additional Info
Tour Course Information:
[Half-day course]
Igidae Costal Path - Oryukdo Island - Baengunpo - Sinseondae
[One-day course]
Igidae - Jangjasan Mountain - Oryukdo Island - Baengunpo - Sinseondae - Hwangryeongsan Mountain
tel: +82-51-888-3636
zipcode: 48594
infocenter: • 1330 Travel Hotline: +82-2-1330
(Korean, English, Japanese, Chinese)
• For more info: +82-51-888-3636