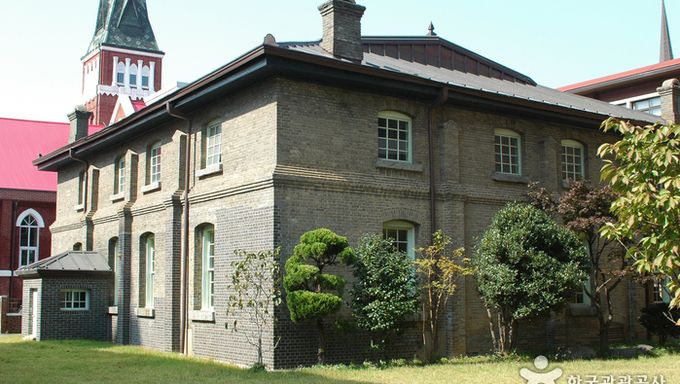 Introduction
The Owen Monument and Memorial Hall is located inside the Christian College of Nursing. The monument was erected in 1914 in memory of missionary Clement Owen who, together with Priest Bae Yoo-ji, was the first missionary to come to Jeollanam-do Province. The monument was built using the 4,200 dollars collected by Owen's relatives in the USA after Owen died as a martyr in Gwangju.
Clement Owen came to Yangnim-dong, Gwangju in the 1900s and served as a missionary and medical volunteer with his wife, who was a nurse, before dying of exhaustion and overwork in 1909. Owen had hoped to build a memorial hospital in honor of his grandfather, but died before his plan was materialized. The plaque hanging in the hall honors both men in English and Chinese, reading, "In Memory of William L. and Clement C. Owen."
A Western-style building with a total footage of around 1,435 meters squared (including the annex building), the monument is said to have been used as chapel and assembly room. Today, the building serves as the auditorium of the Christian College of Nursing. The white, two-story building features a lectern in one corner, with two columns of pews facing the lectern. The second floor balcony stretches along the two walls opposite the lectern.
Address:
6, Baekseo-ro 70beon-gil, Nam-gu, Gwangju[Google Map]
Homepage:
namgu.gwangju.kr (Korean, English, Japanese, Chinese)
utour.gwangju.go.kr (Korean only)
www.cha.go.kr (Korean, English, Japanese, Chinese)
How To Use
Parking Facilities:
Not available
Transportation
[Subway]
Namgwangju Station (Gwangju Subway Line 1), Exit 3.
[Bus]

(Get off at one of the following stops)
Hakgang Elementary School Bus Stop: Bus 55
Namgwangju Market, Yangnimgyo Bridge Bus Stop: Bus 53
Chonnam University Hospital Bus Stop: Bus
09, 37, 45, 51, 52, 54, 150, 151, 152
Additional Info
Restrooms:
Available
Reservation Info. for Foreigners:
Reservations must be made prior to visit.
* The hall is only open to the public by request.
tel: +82-62-365-8733
zipcode: 61662
infocenter: • 1330 Travel Hotline: +82-2-1330
(Korean, English, Japanese, Chinese)

• For more info: +82-62-365-8733