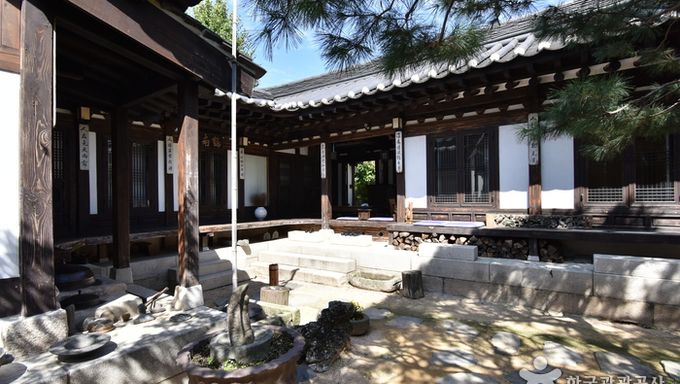 Introduction
Located in Bukchon, surrounded by Bugaksan Mountain between Gyeongbokgung Palace and Changdeokgung Palace, Rakkojae Seoul is one of the first hanok accommodations opened in the area, and it is a popular tourist spot for the unique beauty of its hanok buildings and delicious restaurants as well as ancient palaces and Insa-dong street.
Entering the alleyway along the wall of Jaedong Elementary School, an extraordinary-looking hanok structure with the name plaque 'Rakkojae', meaning "a place where one can enjoy the traditions of times past and rest one's soul", is found. Rakkojae Seoul is a boutique hanok hotel that was built by renovating an old noble family's house with a history of 130 years by Human Cultural Asset-Master Carpenter Chung Young-jin. With the quiet and still atmosphere, the hanok hotel has a 'ㅁ'-shaped hanok structure with various charms including black roof tiles, a red clay wall, a tall gate, a yard with a pond, sotdae (pole), an iron pot and jars, a pavilion, and a garden planted with bamboo and pine trees along the walls.
Rakkojae aims to promote the true beauty of the traditional Korean house and provide the best quality services. At the hotel, eating is a matter of the highest priority. Based on Korean style food, guests can choose between standard and high quality Korean table d'hote, which requires an advance reservation. The music performance of gayageum (Korean zither with twelve strings), pansori (epic chant), geomungo (Korean zither with six strings), or daegeum (large bamboo transverse flute) takes place on the floor of the pavilion. It also offers various hands-on programs including a tea ceremony, making Kimchi, and a royal court traditional Korean clothes experience. The room temperature of the Jjimjilbang (Korean dry sauna), the most popular experience among guests, reaches up to 60°C through a furnace. In addition, each room is equipped with a bathtub made of Hinoki cypress.
There is an interesting background story about how the owner started running the hanok hotel. Mr. Ahn, who worked for an engineering company in the U.S.A. and came back to Korea after about ten years, originally ran the Korean restaurant. As he was charmed by the hanok structure of the restaurant and wanted to introduce it to his foreign friends, he led trips to ancient hanok buildings from 1994. Then, he heard about the plan to demolish the building of Jindan Academic Society in 2000, and Ahn bought it to establish Rakkojae. With the motivation of promoting the true beauty of Korea to the world, the boutique hanok hotel 'Rakkojae' was designed with sophisticated decorations and objects such as old furniture, paintings, elegant ceramics and tea sets.

Address:
49-23, Gyedong-gil, Jongno-gu, Seoul[Google Map]
Homepage:
Transportation
Available
Additional Info
tel: +82-2-742-3410
telname: Kim Seong-won
zipcode: 03056
accomcountlodging: 12 persons
checkintime: 15:00
checkouttime: 11:00
chkcooking: N/A
foodplace: None
infocenterlodging: • 1330 Travel Hotline: +82-2-1330 (Korean, English, Japanese, Chinese)
• For more info: +82-2-742-3410
parkinglodging: Yes
pickup: N/A
reservationlodging: Available (+82-2-742-3410, http://rkj.co.kr)
reservationurl: None
roomcount: 4
roomtype: * Room with a bed : Anbang
* Traditional ondol room (Floor-heated) : Geonneonbang / Jeongjabang / Byeolchae
scalelodging: One floor