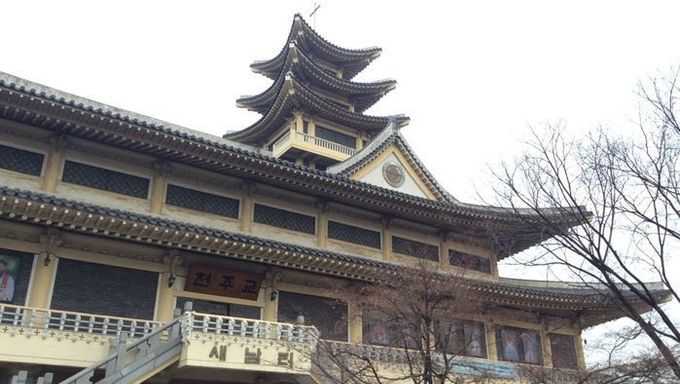 Introduction
When taking the subway from Seoul Station to Yongsan Station, you will notice a tall and distinct hanok (traditional Korean architecture) building; this is Saenamteo Catholic Holy Place of the Martyrs. Construction of the building began in 1984, the year of the 200th anniversary of Catholicism in Korea, and was completed after three years.
Also called "Nodeul" and "Sanamgi," Saenamteo was used as a military training ground during the early Joseon period. It was also the place
where convicted felons and the Sayuksin (the six martyred ministers) were executed.
Many Catholics were executed here during the Sinyu Persecution of 1801, the Gihae Persecution of 1839, the Byeongo Persecution of 1846, and the Byeongin Persecution of 1866. Among those executed were 11 priests including the first Korean priest Kim Taegon (Andrew), the first Chinese priest that came to Korea Ju Mun Mo (Jacobus), the first French priest that came to Korea Bishop
Imbert and other Catholics including Hyeon Seok-mun. There is also an altar here where the remains of nine Catholic saints are enshrined.
Address:
80-8, Ichon-ro, Yongsan-gu, Seoul[Google Map]
Homepage:
www.saenamteo.or.kr (Korean, English)
How To Use
Parking Facilities:
Available (Not available for large cars)
Transportation
Yongsan Station (Seoul Subway Line & Jungang Line), Exit 1.
After coming out of the station, walk to the right for about 63 m.
Turn right at the first corner (toward Dragon Hill Spa & Sauna) and keep walking until the end of the street.
Turn left and walk for about 650 m.
Turn right at the corner where Bingchang Rainwater Pumping station is located.
Walk for another 188 m and after passing the train tracks, you will see the building on the left side of the street.
Additional Info
Restrooms:
Available
Facilities for the Handicapped:
Not available
tel: +82-2-716-1791
zipcode: 04374
infocenter: • 1330 Travel Hotline: +82-2-1330
(Korean, English, Japanese, Chinese)
• For more info: +82-2-716-1791
+82-70-8672-0327
usetime: Memorial Hall 10:00-17:00