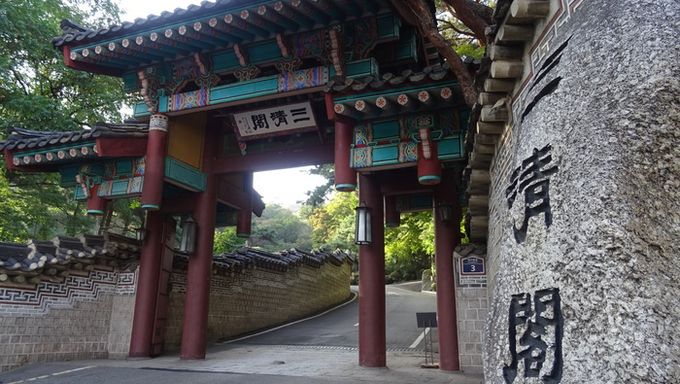 Introduction
Reflecting its name (literally the 'House with Threefold Purity'), Samcheonggak is located in one of the most pristine places in the city and has born witness to standout moments in Korean history. It was the venue for the banquet for the Joint Statement (July 4, 2007) between North and South Korean representatives and has served as a forum for a variety of other political and diplomatic functions. The City of Seoul took over Samcheonggak in 2000 and made it available to the public and the building has been under the management of the Sejong Center for the Performance Arts since July 2009, affording visitors many opportunities to experience Korean traditional culture.
Address:
3, Daesagwan-ro, Seongbuk-gu, Seoul[Google Map]
Homepage:
www.samcheonggak.or.kr
(Korean, English, Japanese, Chinese)
How To Use
Parking Fee:
Free
Transportation
[Bus]
Take Bus No. 1111 or 2112 and get off at Seoul Dawon School Bus Stop.
* Shuttle bus is available. Please refer to official website for more details: www.samcheonggak.or.kr
Additional Info
Program Information:
* Lunch Concert 'Jami'

- Schedule: March 5, 2012-June 27, 2012 / Monday-Wednesday: 12:00-13:30
- Admission
Fees: R seat: 70,000 won / S seat: 50,000 won (Lunch and VAT included)
- Age Limit: Must be at least 48 months of age
- Performer: Gugak (Korean traditional music) Ensemble 'Cheongarang'

- Description: A Gugak Concert with creative and traditional performances
such as Pansori, traditional dance and instrumental music
- Lunch Menu: Jami
Jeongsik (Set meal)/ Main menu: Galbijjim (Mon), Salmon Bibimbap (Tue), Hanu
Bulgogi Deopbap (Wed)
- Ticket Reservation: Interpark
(Korean) or Phone reservation
- For more information, call (02)765-3700 (ext. 2) or (02)740-3208~9
Industry Information:
[Traditional culture area: Samcheonggak]
Korean restaurant, Korea fusion cafe: Dawon, traditional performance, traditional culture experience
Foreign Language Intepretation Services:
English, Japanese
tel: +82-2-765-3700
zipcode: 02822
infocenterculture: • 1330 Travel Hotline: +82-2-1330
(Korean, English, Japanese, Chinese)
• For more info: +82-2-765-3700
parkingculture: 75 parking spaces