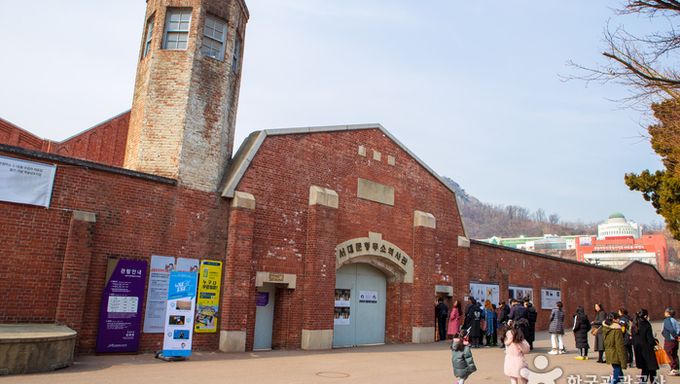 Introduction
Seodaemun Prison History Hall is a special museum located at Seodaemun Independence Park. It was built near the end of the Joseon Dynasty (~1910), and was where Japanese soldiers tortured and later executed Korean Independence Movement followers. Seodaemun Prison History Hall was built in remembrance of Seodaemun Prison, and to salute the Korean patriots. There you'll find seven jail cells, a historical exhibition hall, an execution room, watchtowers and a basement jail cell where Yu Gwan-sun an historic figure during the independence movement died. The 1st floor is "A Place of Reverence," where you can learn about Seodaemun Prison through a video. A large screen shows the background of its founding and the transition periods in its history. The Reference Room has displays and information on Korea's history. The museum also holds special exhibits. The 2nd floor is "A Place of History," where you can view the "National Resistance Room," "Prison History Room" and the "In Prison Life Room." This floor shows examples of how the people fought through this dark chapter in history continuing to hold on to their hopes and resolve for freedom. "A Place of Experience" is the most horrifying and dreadful place in the prison. In the "Temporary Detention Room" and "Torture Room" you will see recreated torture scenes that are frighteningly realistic. At the Seodamun Independence Park nearby you can visit the Independence Hall, the Patriotic Martyr Monument, the March 1st Declaration of Independence Monument, relic no. 32 and no. 33.
Address:
251, Tongil-ro, Seodaemun-gu, Seoul[Google Map]
Length of Tour:
1 hour - 1 hour 30 minutes
Homepage:
www.sscmc.or.kr (Korean, English, Japanese, Chinese)
How To Use
Admission / Participation Fees:
Adults: Individuals 3,000 won / Group 2,400 won
Teenagers: Individuals 1,500 won / Group 1,200 won
Children: Individuals 1,000 won / Group 800 won
* Adults (19 & over) / Teenagers (ages 13-18) / Children (ages 7-12)
* Group: 30 people or more
* Free admission: Children (age 6 & under), Seniors (ages 65 & over), people with disabilities (certificate of disability required)
Parking Fee:
Large vehicles: 450 won per 5 min / 5,400 won per hour
Small & mid-sized vehicles: 150 won per 5 min/ 1,800 won per hour
Transportation
[Subway]
Dongnimmun Station (Seoul Subway Line 3), Exit 5.
[Bus]
- Get off at Independence Park
Blue - 471, 701, 702, 703, 704, 720, 752
Green - 7019, 7021, 7023, 7025, 7712, 7737
Red - 9701, 9703, 9705, 9709, 9710, 9711, 9712
Additional Info
Program Information:
Youth field study
Foreign Language Intepretation Services:
Availability of guided tours:
- Call the museum one week before your visit to give the docent enough time to prepare the schedule.
- Limited to 30 participants.
- Languages: English and Japanese
- Inquiries: +82-2-360-8586
Reservations:
Reservations required for a groups (separate reservation required for guided tours)
Inquiries: +82-2-360-8583
zipcode: 03732
infocenterculture: • 1330 Travel Hotline: +82-2-1330
(Korean, English, Japanese, Chinese)

• For more info: +82-2-360-8586
parkingculture: Available (Seodamun Independence Park)
restdateculture: Mondays (If Monday is a holiday, then closed on Tuesday), January 1, the Day of Seollal (Lunar New Year's Day) & Chuseok (Korean Thanksgiving Day)
usetimeculture: March-October 9:30-18:00

Novemebr-February 9:30-17:00
* Last admission 30 min before closing