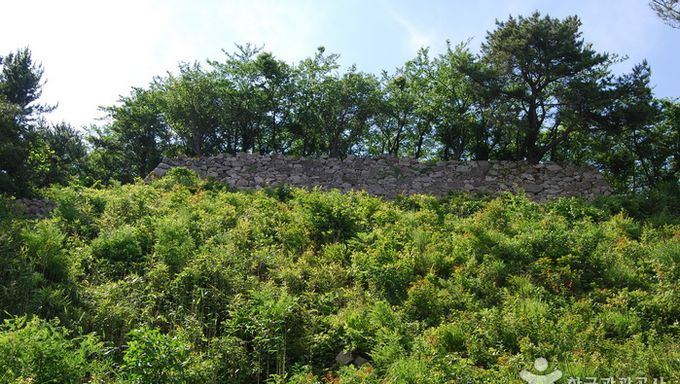 Introduction
Seosaengpo Waeseong Fortress
(Seosaengpo Japanese Fortress) is a stone fortress typical
of the Japanese style popular in the later part of the 16th century. It was built under the leadership of Japanese General Kato Kiyomasa in
1592-1593 at the beginning of the Imjinwaeran War (Japanese invasion, 1592-1598). The main fortress is located on a mountaintop 200 meters above
sea level, a second fortress is halfway down the mountain, and a third fortress is
located at the bottom of the mountain. The whole fortress is rectangular shaped. The fortress wall is 6 meters high and slants at an angle of 15 degrees.
In 1594, a Buddhist monk named Samyeong-daesa came to Seosaengpo Waeseong Fortress four times to negotiate for peace, but he failed each time. In 1598, the fortress was taken over
by Korea with the assistance of General Magwi of the Ming dynasty. A year later, Changpyodang Shrine was built in honor of 53 Koreans
who died during battles against the Japanese invading forces. However, the shrine was destroyed during the Japanese imperialism period and no
trace of it remains. It is possible to tell from Seosaengpo Jinseongdo (a map drawn up in 1872) that the fortress was also partially used by Korean forces.
Address: 
Seosaeng-ri, Seosaeng-myeon, Ulju-gun, Ulsan-si[Google Map]
Homepage: 
tour.ulju.ulsan.kr (Korean only)
www.cha.go.kr (Korean, English, Japanese, Chinese)
Transportation
[Bus]
From Seoul Express Terminal, take a bus to Ulsan Bus Terminal.
Across from Ulsan Express/Intercity Bus Terminal, take Bus No. 715 and get off at Seosaengpo
Japanese Fortress Bus Stop.
Additional Info
Admission Fees: 
Free
tel: +82-52-204-0324
zipcode: 45013
infocenter: • 1330 Travel Hotline: +82-2-1330
(Korean, English, Japanese, Chinese)

• For more info: +82-52-204-0324