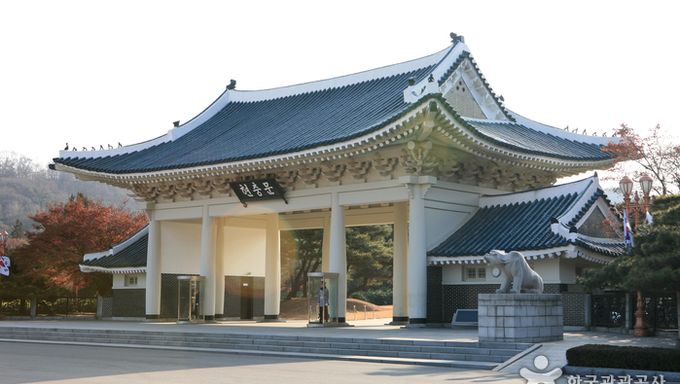 Introduction
The rear area of Seoul National Cemetery is surrounded by the sacred mountain ridges of the Dongjak region that connect to Gongjaksan Mountain and form the foothills of Gwanaksan Mountain. Towards the front, the cemetery overlooks the meandering Hangang River.
Seoul National Cemetery is situated on a plot of land measuring approximately 1,430,000㎡. Entombed here are the remains of 165,000 martyrs and soldiers, police officers, and reserve forces who sacrificed themselves for their country. Enshrined within the Memorial Tower are memorial tablets of approximately 104,000 soldiers who died during the Korean War, but whose bodies were never found along with the remains of approximately 7,000 unknown soldiers whose bodies were found. The remains of more than 54,000 martyred patriots have been buried in the Burial Plots, which are divided into various sections: graves of soldiers, police officers, meritorious citizens, and key figures of the provisional government. Every year on June 6th (Memorial Day), memorial services and events are held at the Seoul National Cemetery to honor the brave patriots who fought for the country.
Facilities consist of the Memorial Gate, Memorial Tower, Chungseong Fountain Tower, Holy Ground, Photographic Exhibition House, Educational Movie Theater, and Relics Exhibition House. In 1955, the cemetery was established as the National Military Cemetery and then was elevated to the status of National Cemetery ten years later in 1965. In 1996, the managing institution also underwent a name change from "National Cemetery Management Office" to "National Memorial Board."
Address:
210, Hyeonchung-ro, Dongjak-gu, Seoul[Google Map]
Homepage:
www.snmb.mil.kr (Korean, English)
How To Use
Parking Facilities:
Available
Transportation
[Subway]
Dongjak Station (Seoul Subway Line 9), Exit 2 or 4.
[Bus]
Take Bus No. 5524, 6411, 361, 362, 363, 642, 640 or 360.
Get off at Seoul National Cemetery (Gungnim Myoji) Bus Stop.
Additional Info
Tour Course Information:
* Pilgrimage to gravesite border
Memorial monument → Cemetery of patriots & officers of the provisional government → Cemetery of President Rhee Syng-man→ Student militia memorial monument
Reservations are accepted online and via tel (+82-2-826-6251) or fax (+82-2-822-3762).
Admission Fees:
Free
Available Facilities:
* Educational Movie Theater: Films that introduce the Seoul National Cemetery and describe the noble acts of its martyrs and patriots
* Photographic Exhibition House: More than 600 pictures and artifacts describing the activities of the country's patriot martyrs and compatriots and soldiers killed during battle. Also displays artifiacts and photos on the social development of Korea.
* Relics Exhibition House: Approx. 1,500 relics of the life and deeds of patriot martyrs and those killed in battle, along with some 100 war trophies and medals
Restrooms:
Available
Facilities for the Handicapped:
Wheelchair rental services, restrooms, reserved parking spaces
Parking Fees:
Free
Interpretation Services Offered:
Not available
tel: +82-2-813-9625
zipcode: 06984
expguide: * Volunteer work (Mar.-Nov.) / Weeding, setting up vases
Volunteer opportunities are open to students, individuals, & profit and non-profit groups
infocenter: • 1330 Travel Hotline: +82-2-1330
(Korean, English, Japanese, Chinese)
• For more info: +82-2-813-9625
usetime: [Opening hours] 06:00-18:00
[Visiting hours] 09:00-17:00