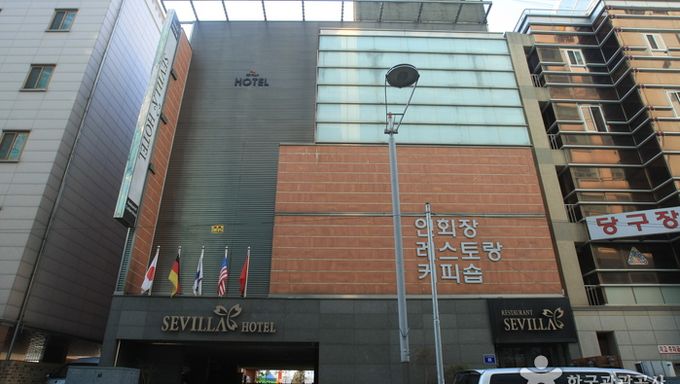 Introduction
Sevilla Incheon Airport Hotel features the ambience of Sevilla in Spain.
It is neat, calm and comfortable to rest with excellent service. Regardless of the scale -
from family gatherings to international meetings, the hotel offers high-quality servic
alongside with their clean facilities.
The main restaurant is available on basement level 1, serving international dishes that
use only fresh ingredients, cooked by professional chefs. The business center
is open 24 hours without charge and it provides convenient facilities such as
internet PC, fax and other business-related facilities.
Address:
8, Sindosinam-ro 150beon-gil, Jung-gu, Incheon[Google Map]
Homepage:
www.hotelsv.co.kr
(Korean, English, Japanese, Chinese)
Transportation
[Subway]
Get off at Unseo Station (Airport Railroad Line), and Exit 1.
Go straight 160m on Sindosinamno 142 Beon-gil and turn right.
Go 160m straight and make a left onto Sindosinamno 150 Beon-gil.
Hotel Sevilla Incheon Airport (세비아 호텔) is 80m ahead
on the left.
[Free Shuttle Bus]
Call the hotel upon arrival for
pick-up service.
Wait time: 10min
Additional Info
tel: +82-32-752-1170
zipcode: 22371
accomcountlodging: 100 people
checkintime: 12:00
checkouttime: 12:00
chkcooking: Included
foodplace: Sevilla Restaurant, coffee shop, cocktail bar
infocenterlodging: • 1330 Travel Hotline: +82-2-1330
(Korean, English, Japanese, Chinese)
• For more info: +82-32-752-1170
parkinglodging: Available
pickup: Available from Incheon International Airport
reservationlodging: +82-32-752-1170~3 / www.hotelsv.co.kr
roomcount: 43 rooms
scalelodging: Building
has 6 floors above ground and 1 underground floor.
subfacility: Banquet room, business center