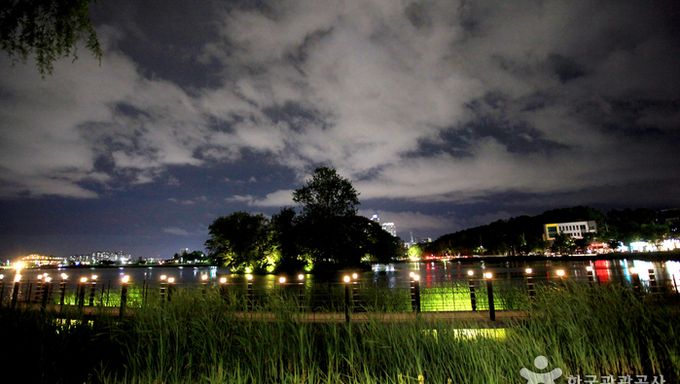 Introduction
Suseong Pond Resort is located at the foot of the northwest side of Yongjibong Peak (629m) in Beommul-dong and offers outstanding scenery including gentle mountains along with Suseong Pond. The resort is centered around Suseong Pond, established in 1925 with 70,000 pondage in a circumfrence of 2,020m. The total area of the park is 218,000 ㎡.
Suseong pond is an artificial pond created in 1925 during Japanese colonial era to supply water for agriculture to rural areas. These days, it is no longer used for agricultural purposes, but has turned into a resting area. Nearby the pond is Suseong Land which houses benches, trees, cruise boarding dock, biking, bumper car, merry-go round and other entertainment facilities. Also, visitors can enjoy a duck-boat, Dusan waterfalls and other exciting places perfect for excursion.

Built in September 2007, the music fountain operates from May to October four times a day during the week.
Address:
35-5, Yonghak-ro, Suseong-gu, Daegu[Google Map]
Homepage:
www.suseong.kr (Korean, English, Japanese, Chinese)
Transportation
[Bus]
From Seoul Express Bus Terminal, take an express bus to Hanjin Express Bus Terminal. Cross the street toward Daegu Dongbu Fire Station and take Bus Suseon Bound 4 and get off at Suseong-gu Health Care Center Entrance Bus Stop. Transfer to Bus No. 304 and get off at In front of Sangdong Catholic Church Bus Stop. Walk for approx. 620m to reach Suseong Resort.
Or, take a taxi from Hanjin Express Bus Terminal to the resort.
[Train]
From Dongdaegu Station Bus Stop, take Bus No. 401 and get off at Suseong Land 1 Bus Stop. Walk for approx. 330m to the resort.
Additional Info
Available Facilities:
Suseong Pond, swan boat & cruise, riverside deck road, stage, tourism information center, book café, Suseong Land, Suseong Park Land, music fountain, etc.
* Subject to change depending on weather conditions. Closed during rain.
Restrooms:
Available
zipcode: 42202
infocenter: • 1330 Travel Hotline: +82-2-1330
(Korean, English, Japanese, Chinese)
• For more info: +82-53-666-2863

+82-53-666-2163