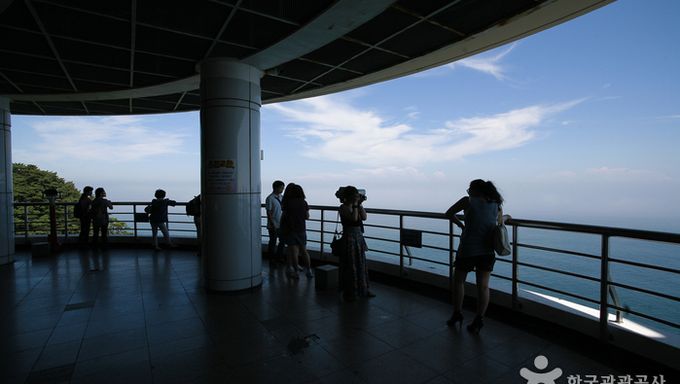 Introduction
Designated as a Busan monument, along with Oryukdo Island, Taejongdae represents Busan, and is especially famous for its rock beach. Featuring its highest peak at 250 meters, there are forests of pine trees and 200 other varieties of trees. Taejongdae was named after the 29th king of the Silla Kingdom (57 BC-AD 935), King Taejong Mu-Yeol (604-661). King Taejong traveled to many places but this was the place he enjoyed shooting arrows the most.
Under the lighthouse of this resort is a rock called Sinseon Rock, named after the myth that gods and goddesses came down here to relax. At this rock is a figure called Mangbuseok, named after the story of a woman who waited for her husband who had been taken to Japan. Taejongdae is also famous for the ritual of praying for rain, performed when there are droughts, and rain on the 10th day of the fifth lunar month is called the "Taejong Rain." On days with clear skies you can see Japan's Tsushima Island from the observatory.
Address:
24, Jeonmang-ro, Yeongdo-gu, Busan[Google Map]
Closed:
N/A (Open all year round)
Homepage:
www.busan.go.kr/geopark (Korean, English)
How To Use
Parking Facilities:
Available Parking Lots
Entrance parking lot (buses only): 26 spaces
No. 7 parking lot (sedans only): 402 spaces
No. 7-2 parking lot (sedans only): 411 spaces
Jayu Land parking lot: 114 spaces
Transportation
[Bus]
From Busan Station, take Bus 88 or 101 and get off at Taejongdae Cliff Bus Stop.
Other buses bound for Taejongdae: No. 8, 13, 30, 88, or 101.
* Local bus schedule is subject to change, please check to confirm before visiting the site.
Additional Info
Restricted Mountain Areas :
Period of restricted access for fire-prevention and nature ecology system protection
* Spring season: February 1-May 15
* Autumn season: November 1-December 15
* Subject to changes depending on weather conditions. Please kindly make an inquiry before visiting.
Admission Fees:
Free
Facility Utilization Fees:
Danubi Train
- TIcket office hours: 09:00-17:30
- Operating hours: 09:20 - 17:30
- Admission
Individuals: Adults 3,000 won / Youths 2,000 won / Children 1,500 won
Groups: Adults 2,400 won / Youths 1,600 won / Children 1,200 won
* Groups: 30 people or more

* Closed when the road may become slippery due to 5mm or more rainfall per hour in summer season, and snow or rain in winter season
* Ticketing may end 2-3 hours before closing time.
tel: 82-51-888-3636
zipcode: 49127
infocenter: • 1330 Travel Hotline: +82-2-1330
(Korean, English, Japanese, Chinese)

• For more info: +82-51-888-3636
usetime: March-October 04:00-24:00
November-February 05:00-24:00