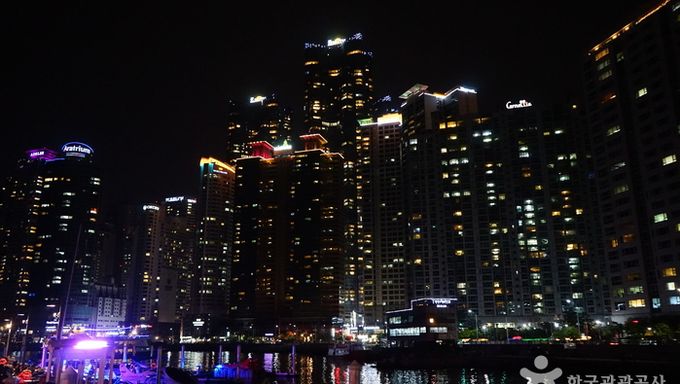 Introduction
The Bay 101 is a yacht club located at Haeundae beach, boasting itself as the no.1 Marine Sport facility in the largest marine city of Busan. With state-of-the-art facilities and equipment along with marine sports professionals, Public Marina offers a cozy and snug place for private dining and other cultural activities.
Marine sports can be enjoyed by all ages at The Bay 101, as marine-related sports and services, such as the 360 spinning Jet Boat or Semi-submarine Boat, Speed Boat, Jetski, Peanut boat and Banana boat are available in one place.
Address:
52, Dongbaek-ro, Haeundae-gu, Busan[Google Map]
Homepage:
blue-marine.co.kr (Korean, English)
Transportation
[Subway]
Dongbaek Station (Busan Subway Line 2), Exit 1.
Walk straight 690m.
The bay 101 will be on the right after crossing the bridge.
Additional Info
Tourism Course:
Public Tour / Sunset Tour / Luxury Tour / Exciting Tour
* Detailed course and fare information is available on the official website.
Rental Fees:
Varies by tour as each tour requires a different model of yacht and boat.
* Make a phone-inquiry or visit the official website.
Discount Information:
For group booking or inquiries on function room reservation, please call.
Rental Information:
Please call to inquire at +82-51-726-8855
Main Facilities:
- Public Marina facilities

- Shower Stalls
- Etc.
Subsidiary Facilities:
Cafe, restaurant, pub, etc.
Supplemental Expenses:
Yacht: Leopard44 / Leopard58 / Dyna70 / Matrix760 / Sunseeker48
Boat: Jet Boat KK 7800 / Looker350 / R2100 / Blue36 / J-Ski
* Make an inquiry for other devices.
tel: +82-51-911-8899
telname: Marine Leisure Management Team
zipcode: 48100
expagerangeleports: Open to visitors of all ages. (Some activities are limited to a certain age group)
infocenterleports: • 1330 Travel Hotline: +82-2-1330
(Korean, English, Japanese, Chinese)
• For more info: +82-51-726-8855
openperiod: N/A
parkingfeeleports: Free parking for the first 2 hours for patrons/ Free parking for the first 3 hours available for patrons purchasing luxury yacht tour program.
parkingleports: 220 parking spaces
reservation: Reservation available via phone or online.
* Refer to the official website for more information.
restdateleports: N/A (Open all year around)
usefeeleports: Free
usetimeleports: Varies by reservation. Please visit the website for more information