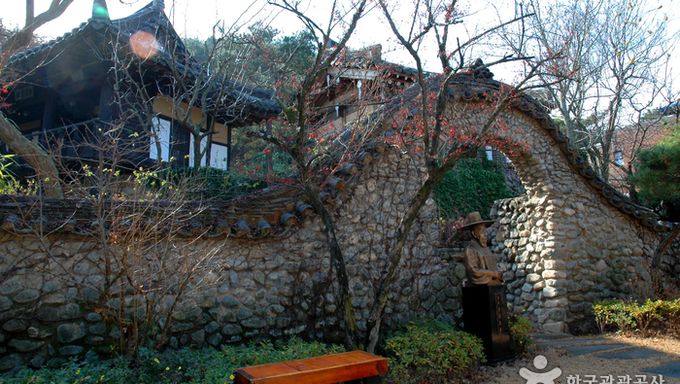 Introduction
Chorakdang (초락당), a resort that specializes in Oriental medicine treatments, is located in a mountain village next
to Ulsan Metropolitan City.
Guests can stay in hanoks (traditional Korean-style houses) with front yards
that serve as a perfect setting for rest, relaxation, and medical treatments.
Chorakdang offers Hanbang Tours (Oriental medicine tours) designed especially for foreigners, that last for one-night
and two-days. Guests will receive health consultations, hwangto face packs (made from yellow earth), medicinal herb baths, as well as meals and teas made from various medicinal herbs.
In addition, there is a 2-night/3-day course where guests will be taken on a tour of Gyeongju with the Oriental medicine experience. Reservations for all tours must be made by phone at least 3 to 4 days in advance (please note the resort is closed on Mondays and Tuesdays).
Address:
44-34, Gyemyeong-ro, Dudong-myeon, Ulju-gun, Ulsan[Google Map]
Closed:
Every Tuesday, New Year's Day, Seollal (Lunar New Year's Day) & Chuseok (Korean Thanksgiving Day) Holidays, summer vacation period
Homepage:
chorakdang.com (Korean only)
How To Use
Parking Facilities:
Available
Transportation
[Bus]
Take a bus to Gyeongju from either Dong Seoul Bus Terminal or Seoul Nambu Bus Terminal.
Travel time: 4 hr 30 min
From Gyeongju Bus Terminal, go left for 600m until the second intersection, Naenam Sageri (내남사거리).
Turn right and then go for 50m.
Take Bus 500 and get off at Bonggye (봉계) bus stop.
Go 200m forward and then turn right at Bonggye Crossing (봉계교차로).
Follow the sign for Chorakdang (초락당) for 200m.
Additional Info
Available Facilities:
Wondumak cabin, Chorakdang House, Byeolchae, forest park, Bullomun Gate, Seongnyudang, goldfish pond, medical office, the Five Elements tea room, treatment room, management room, red-clay sauna, traditional tea café, medicinal herb restaurant, atopic lab, Baengnyeonjeong, artificial grass tennis court, trekking course (Heo Jun walking path), etc.
tel: Oriental Medicine Clinic +82-52-264-8001,
Hwangtobang & Restaurant: +82-52-264-8741
zipcode: 44914
infocenter: • 1330 Travel Hotline: +82-2-1330
(Korean, English, Japanese, Chinese)
• For more info: Oriental Medicine Clinic +82-52-264-8001,
Hwangtobang & Restaurant: +82-52-264-8741
usetime: Mon 09:00–17:00
Wed-Fri 09:00–18:00
Weekends & National Holiday 09:00-18:00
* Healing camp and Chorakdang House: Phone inquiry required