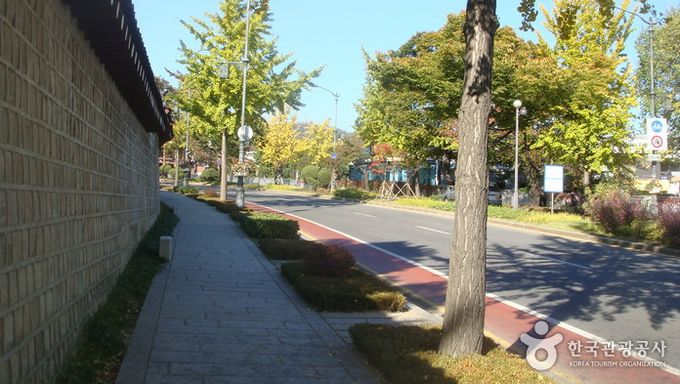 Introduction
The street in front of Cheongwadae (the Blue House) is open to the public and includes both Hyoja Samgeori (Hyoja three-way intersection) in Hyoja-dong and Palpan Samgeori (Palpan three-way inetersection) in Palpan-dong. When walking along Hyoja-ro Road from Gyeongbokgung Station, sights include a fountain, Mugunghwa Garden, Yeonmugwan Hall, and Daegogak & Yeongbingwan Hall.
Cheongwadae Sarangchae consists of one basement level and two above-ground levels, including Korean Culture Exhibition Hall, Planned Exhibition Hall, a gift shop, and rest area (Korean Food Promotion Hall, Café) on the first floor and Cheongwadae Hall and Haengboknuri Hall on the second floor. Daegogak Hall houses a book donated to former president, Kim Young-sam for expressing the past spirit of Sinmungo (Petitioner's drum from Korean History). Yeonmugwan Hall is a martial art and fitness center for guards. Mugunghwa Dongsan, formed after the ansa (Safe House) was demolished in 1993, includes a well, mock fortress, and rest area. Located behind Mugunghwa Dongsan is Apostolic Nunciature in Korea and Chilgung (Seven Palaces).
At the beginning of the street in front of Cheongwadae, dense trees and beautiful flower gardens decorating both sides of the road make it a nice place for taking a walk. The area from the north gate of Gyeongbokgung Palace, Chunchumun, to the main gate of Gyeongbokgung Palace, Geonchunmun, is Samcheongdong-gil Road. This road is home to many art galleries, including Kukje Gallery, Growrich Gallery, Gallery Hyundai, and Jin Art gallery, in the area of Hyoja-ro.
Address:
45, Hyoja-ro 13-gil, Jongno-gu, Seoul[Google Map]
Homepage:
tour.jongno.go.kr (Korean, English, Japanese, Chinese)
Transportation
[Subway]
Gyeongbokgung Station (Seoul Subway Line 3), Exit 4.

From the exit, take a left at the first four-way intersection and walk straight 920m and cross the road.
The street is located 230m ahead.
Additional Info
tel: +82-2-120
zipcode: 03042