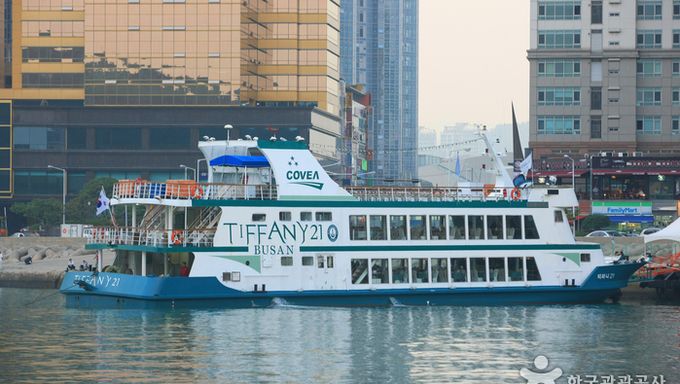 Introduction
Set in the largest marine tourism city in Korea, Tiffany 21 Cruise is one of Busan's special marine attractions. Tiffany 21 blends cruise excursions with a fine dining experience, offering a perfect venue for a variety of customer-tailored events. Haeundae Beach has a beautiful 1.8 kilometer-long coastline. Passengers can take in the views of the numerous coastal sites, including Nurimaru APEC House on Dongbaek Island, 49th Square in Suyeong-gu, Namcheon-dong, and Centum City in U-dong, Gwangandaegyo Bridge, the nation's largest marine bridge, Igidae Park, a unique scenery, and Oryukdo Island, designated as Busan's National Cultural Heritage Scenic Spot No. 24, Taejongdae, one of the representative tourism attractions of Busan, featuring rocky coastal line with strong wave and forest, and Busandaegyo Bridge, connecting Yeongdo Island and the mainland, Jagalchi Market, the largest fishery market, PIFF Square, and other things to see.
- Things to enjoy on Tiffany 21
The cruise offers views of Oryukdo Island and Igidae in the daytime and Haeundae and Gwangandaegyo Bridge at night. In particular, the dinner tour includes a buffet as well as live performance, perfect for parties, sunrise-viewing, firework shows and other events. It's especially great for groups of families or domestic and foreign tourists, as it offers a truly unique experience of Busan.
Address:
168 Marine City 1-ro, Haeundae-gu, Busan[Google Map]
Closed:
Tuesdays
Homepage:
www.tiffany21.co.kr (Korean only)
How To Use
Parking Facilities:
Available at the parking lot of the ferry dock.
Transportation
[Subway]
Dongbaek Island Station (Busan Subway Line 2)
Additional Info
Tour Course Information:
[Daytime Tour]
Dongbaekseom Island - Oryukdo Island - Igidae - Gwangalli - Dongbaekseom Island
[Nighttime Tour]
Dongbaekseom Island - Haeundae Beach - Gwangandaegyo Bridge - Gwangalli - Dongbaekseom Island
* The tour route is subject to change depending on weather conditions and other situations.
Admission Fees:
Cruise 1-3: Adults 27,500 won / Children 17,000 won
Cruise 4 (General): Adults 35,000 won / Children 25,000 won
Cruise 4 (Dinner): Adults 99,000 won / Children 69,000 won
Cruise 5: Adults 27,500 won / Children 17,000 won
Available Facilities:
1F – Main stage for live concerts, restaurant
2F – Conference and other events (video room)
3F – Observatory facility
Reservation Info. for Natives:
- Dinner Tour requires pre-reservation.
- General Tour is available without reservation. However, a phone inquiry beforehand is required regarding the operating schedule.
tel: +82-51-743-2500
telname: Busan Sea & Marine Tourism Development / Kim Haeryong
zipcode: 48092
infocenter: • 1330 Travel Hotline: +82-2-1330
(Korean, English, Japanese, Chinese)
• For more info: +82-51-743-2500
usetime: Daytime Tour 11:00 / 13:30 / 15:30
Nighttime Tour 19:00 / 21:30