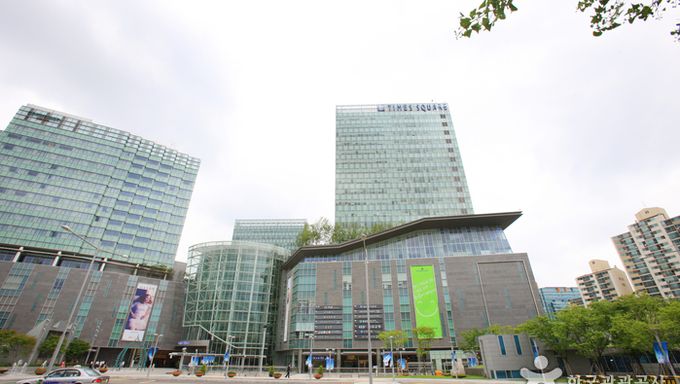 Introduction
Times Square is a large, comprehensive lifestyle complex equipped with various leisure, entertainment, accommodation, and dining establishments.
The complex houses Shinsegae Department Store, which features a number of luxury brands and high-end local products, CGV Starium,
which houses 12 movie theaters, including the world's largest screen, a multi-purpose performance center, Kyobo Book Center, E-Mart Discount Supermarket, Courtyard by Marriott,
which features 273 rooms, Kolon Sporex Luxury Fitness Center, Amoris Banquet and Convention
Center, I Like Dalgi Children's Theme Park, various dining establishments, and many more. In addition, several large outdoor spaces, which collectively span over near 14,850
㎡, provide perfect spots for relaxation and enjoying the nature inside the metropolitan
complex.
Address:
15, Yeongjung-ro, Yeongdeungpo-gu, Seoul[Google Map]
Homepage:
timessquare.co.kr (Korean, English, Japanese, Chinese)
Transportation
[Subway]
1. Yeongdeungpo Station (Seoul Subway Line 1).
- Leave the station through Lotte Department Store.
- Cross the street, and continue straight for 200m.
- Turn left, and walk 150m to arrive at Times Square.
2. Yeongdeungpo Market Station (Seoul Subway Line 5), Exit 4.
- Walk for 10 min.
3. Mullae Station (Seoul Subway Line 2), Exit 4.
- Walk for 7 min.
[Bus]
* Yeongdeungpo Registry Office/Guro Tax Office Bus Stop
Blue bus: 160, 260, 503, 600, 660A, 660B
Green bus: 5614, 5615, 5714, 6512, 6513, 6637, 6640
Regular bus: 11-1, 11-2, 88, 92, 905
Express bus: 310, 320, 510
* Yeongdeungpo Station Bus Stop A
Blue bus: 160, 260, 503, 600
Green bus: 5614, 5615, 5618, 6512, 6513, 88
Regular bus: 11-1, 11-2, 88, 92, 905
Express bus: 310, 320, 510
* Yeongdeungpo Station Bus Stop B
Airport bus: 6008
* Yeongdeungpo Station Bus Stop C
Village bus: Yeongdeungpo 04
* Yeongdeungpo Station Bus Stop D
Village bus: Yeongdeungpo 03
* Yeongdeungpo Station Bus Stop A (Shinsegae Department Store)
Red bus: 9707
Airport bus: 6008
Regular bus: 5, 70-3, 83
Express bus: 1082, 87-3
Village bus: Yeongdeungpo 05
*Time Square Bus Stop B (Shinsegae Department Store)
Red bus: 2300, 2400, 2500
Regular bus: 87, 87-1
* Time Square Bus Stop C (Shinsegae Department Store)
Blue bus: 462, 605, 660A, 661, 8361
Green bus: 5625, 5714, 6628, 6631, 6637, 6640, 7612
Red bus: 2300, 2400, 9408, 9707
Regular bus: 60-3, 66, 700
Express bus: 300, 301
* Time Square Bus Stop D (Shinsegae Department Store)
Blue bus: 361, 760
Green bus: 5012, 6630
Regular bus: 2, 6, 60, 69, 70-3, 88
Additional Info
tel: +82-2-2638-2000
zipcode: 07305