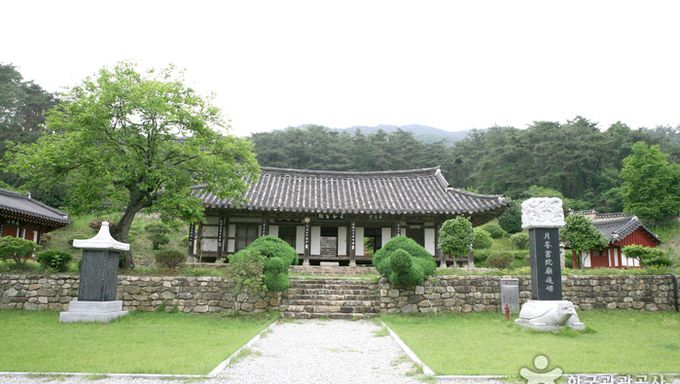 Introduction
Wolbongseowon Confucian Academy (built in 1578, the 11th year of King Seonjo) was established to honor Ki Daeseung's study and virtue by Kim Gyehwi and other confucian scholars through Mangcheonsa Shrine in Sanwol-ri, Bia-myeon, Gwangsan-gun. The location of the confucian academy was moved to its current site in 1646 (the 24th year of King Injo) and the name 'Wolbong' was made by King Hyojong in 1654. In 1671, Bak Sang and Bak Sun's shrines were placed from Deoksansa Shrine by suggestions of Song Siyeol. Also, Kim Jangsaeng and Kim Jip's shrines were additionally placed in 1673. Unfortunately, the confucian academy was abolished due to the abolition policy of Daewongun in 1868 (the 5th year of King Gojong). Later, Bingwoldang Confucian Academy, comprised of five rooms, was built by Jeollanam-do's Confucian scholars in 1983. In addition, Gojiksa Shrine comprised of four rooms in 1972, Jangpangak Pavilion comprised of three rooms and Oesammun Gate in 1978, Sau in 1980 and Naesammun Gate in 1981 were established in order. Bingwoldang is desigated as Gwangju Monument No. 9 and woodblocks of Gobongjip (a collection of works of Gobong) are preserved in Jangpangak Pavilion.
Address:
133, Gwanggok-gil, Gwangsan-gu, Gwangju[Google Map]
Homepage:
culture.gwangsan.go.kr (Korean only)
www.cha.go.kr (Korean, English, Japanese, Chinese)
Transportation
[Bus]
Take Bus No. Songjeong33 from Gwangju Songjeong Station.
- Get off at Heukseok-sageori Bus Stop.
- Cross the street and take Bus No. Imgok89
- Get off at Wolbongseowon Bus Stop and walk approx. 630m to the academy.
Additional Info
tel: +82-62-960-8252
zipcode: 62200
expguide: Traditional Cultural Experiences
Imaginative Culture Experiences
Regional Heritage Educations Programs
infocenter: • 1330 Travel Hotline: +82-2-1330
(Korean, English, Japanese, Chinese)
• For more info +82-62-960-8252