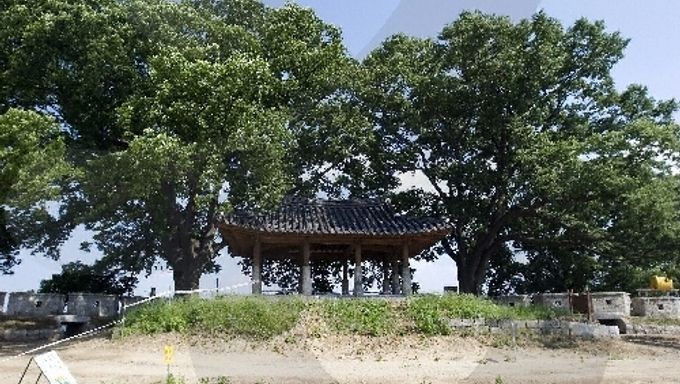 Introduction
Yeonmijeong Pavilion is Incheon's Tangible Cultural Asset No. 24 (designated on March 1, 1995).
While the exact date of construction is unknown, the pavilion was greatly damaged and then rebuilt afterwards due to the Japanese Invasion of Korea in 1592, the Byeongja Chinese Invasion in 1636, and the Korean War on June 25, 1950.
The name Yeonmi comes from the swallow tail-shape of Imjingang River and Yeomhagang River ('yeon' means swallow and 'mi' means a tail). As the pavilion stands on top of Wolgotdondae, visitors can see Paju-si, Gimpo-si, Gaepung-gun in Hwanghae-do (North Korea) at a glance.
Address:
Wolgot-ri, Ganghwa-eup, Ganghwa-gun, Incheon[Google Map]
Closed:
N/A (Open all year round except for military operations)
Homepage:
www.ganghwa.go.kr (Korean only)
www.cha.go.kr (Korean, English, Japanese, Chinese)
Transportation
[Subway]
Sinchon Station (Seoul Subway Line 2), Exit 4.
-Go straight for 260m to arrive at the bus stop in front of Artreon.
[Bus]
From the bus stop, take Bus 3000 to
Ganghwa Bus Terminal.
-From Ganghwa Bus Terminal, head to the left to take Bus
10 (Ganghwa-gun County Office - Yeonmigogae Hill (연미고개) - Sugok) at Ganghwa
Bus Terminal bus stop.
-Get off at Yeonmijeong Pavilion bus stop.
-walk straight
for about 4m to get to the venue.
Additional Info
tel: +82-32-930-4571
zipcode: 23021
infocenter: • 1330 Travel Hotline: +82-2-1330
(Korean, English, Japanese, Chinese)
• For more info: +82-32-930-4571