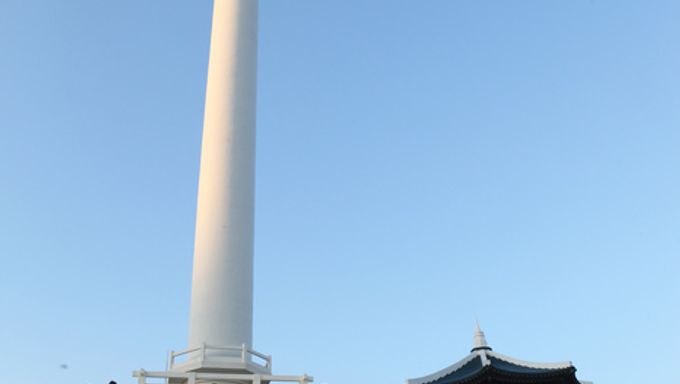 Introduction
Yongdusan Jagalchi Special Tourist Zone is an attractive tourism area embracing history and culture. Vendors in the traditional market welcome tourists with their warm hearts, selling their famous street food such as rice cake, ssiat hotteok (seed-stuffed Korean-style pancake), bibim dangmyeon (spicy glass noodles), pat juk (red bean porridge), and pat bingsu (shaved ice with sweetened red beans). Bosu-dong and 40-Step Culture & Tourism Themed Street also show the history of each street to people traveling in the area. Including Yongdusan Park, the special tourist zone includes traditional markets like Jagalchi Market, Gukje Market, and Bupyeong Market, and historical cultural resources like Yeongdodaegyo Bridge, Bosu-dong Secondhanded Book Alley, and Busan Modern History Museum. The restoration of Yeongdodaegyo Bridge in November 2013 has created a unique sightseeing attraction that is hard to see in other regions and has emerged as a new famous spot. Bupyeong (Kkongtong) Market and Gukje Market are also special markets full of things to see. Various festivals including Busan International Film Festival, Busan Jagalchi Festival, and Busan Christmas Tree Festival are held for all kinds of visitors. The view from Yongdusan Park and fresh seafood from Jagalchi Market, as well as peaceful strolling at Bosu-dong Alley and 40-Steps make a trip to Busan memorable and happy.


Current State of Yongdusan and Jagalchi Special Tourist Zone
1) Districts Covered: Areas around Gwangbok, Nampo and Bupyeong-dong, parts of Donggwang, Daecheong, Bosu and Jungang-dong, Busan
2) Total Area: 1,079,836㎡
3) Designated on May 14, 2008


* Tourist Attractions
Yongdusan Park,Yeongdodaegyo Bridge, Jagalchi Market, Gukje Market, Bupyeong Market, Bosu-dong Book Alley, etc.
Address:
52, Jagalchihaean-ro, Jung-gu, Busan[Google Map]
Homepage:
www.bsjunggu.go.kr (Korean, English, Japanese, Chinese)
How To Use
Parking Facilities:
81 parking lots at department stores, Gukje Market and Jagalchi Market are available.
Additional Info
Available Facilities:
Tourist information center, souvenir shop exclusively for foreigners, nightlife restaurant exclusively for foreigners, ferry tour, department store, traditional market, etc.
Restrooms:
113 public restrooms in the area of Yongdusan Park and other markets
Facilities for the Handicapped:
Escalators at Yongdusan Mountain and parking spaces exclusively for the disabled are available.
Interpretation Services Offered:
Tour guide leaflet in English, Japanese, Chinese
Guide service in English, Japanese, Chinese
tel: +82-51-600-4082
zipcode: 48983
infocenter: • 1330 Travel Hotline: +82-2-1330 (Korean, English, Japanese, Chinese)
• For more info: +82-51-600-4082