JYP's jewel younger sisters, TWICE have achieved another all-kill on the music charts - and this time they did it all by themselves!
TWICE just released their new title track, 'KNOCK KNOCK', today on February 20th. With its release, the track shot up in multiple music charts, claiming the 1st place for the new reigning queens. The successful response came as no surprise, but the list of producers for the new track was what set the group's new win apart from the rest.
Ever since their debut, TWICE partnered up with Blacked Eyed PilSeung for their consecutive hit tracks: "Like Ooh-Ahh", "CHEER UP" and "TT". However, the girls' new song had no star producer lined up. 'KNOCK KNOCK' was composed by a foreign producer and the lyrics were written by a Korean lyricist - both who are not well known yet. The producers were credited as Shim EunJi, Lee WooMin (Collapsedone), and Mayu Wakisaka.
Although they may not be well known, the producers with the help of the girls gained another all-kill achievement for TWICE. 'KNOCK KNOCK' is a mix of pop, rock and disco that has a clear and bright melody. The house beat track tells a story about a girl hoping for someone to come knocking on their hearts, so that she may open up more.
Must Read : MV )) TWICE – KNOCK KNOCK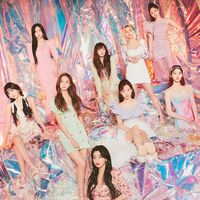 Became a fan of TWICE
You can now view more their stories