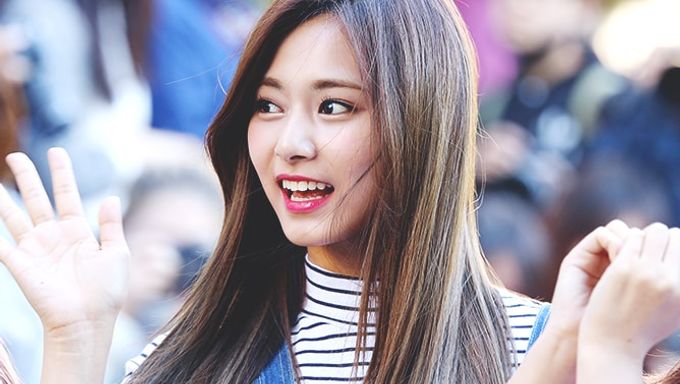 Imagine if you had the love and support of an entire nation. Tzuyu's life is a fairytale sought after by everyone, especially by those who are trying to become idols.
The TWICE member is treated as if she was a living goddess walking among us in Taiwan.
She made the news headlines even as an idol trainee.
During this period, it was unclear whether she would actually debut as a member of TWICE, which was why it was somewhat of a risk spreading the news to an entire nation. 
When she visited her hometown in Taiwan to take exams, the entire townspeople showed up to have a glimpse of her. Security and body guards were busy as they had to maitain order even within the group of cameramen that were present to record footages of her appearance.
Even the headmaster showed up upon hearing the news that Tzuyu was visiting.
The school asked Tzuyu if she could sign the desk in which she took her exams in, to which she gladly obliged to. 
And of course, the autographed desk naturally made the evening news headlines as well.
Eventually, the desk was put on display and became a tourist attraction. 
Unfortunately, this is when things took an unexpected turn. Politicians began rebuking not just the nation but Tzuyu as well. One politician even stated that Tzuyu should be charged with vandalism and given community service and labor duties as a means for restitution. 
The director of education was eventually summoned by government officials of Taiwan to explain the reasoning behind the school's request for Tzuyu's autograph on a desk.
The nation also praised Tzuyu for using a Taiwanese brand carrier. Many people began asking which brand she was using and the carrier manufacturing company's popularity began soaring. The media called the event 'Tzuyu's blessing' to the nation.
Are people taking things a little bit too far? Feel free to share your thoughts!
Must Read : Sana of TWICE Triggers South Korean Netizens