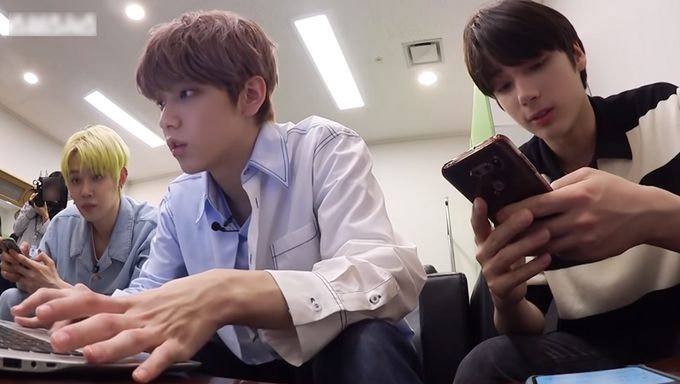 Before the outbreak of COVID-19, K-Pop fans were able to attend live broadcast and music pre-recording on various music shows. However, in order to get into music shows, fans had to undergo the 'fight' by submitting a form about their particulars at a specific time.
Most of the time, it is very competitive as there are limited spots for each recording and live broadcast. The faster you submit the form, the better it is.
On May 14, the latest episode of MMTG is uploaded on their official channel and the special guest is none other than TXT. You can take a look at the full episode below.
Before the boys met up with the host, Jae Jae, they had to submit a form in order to watch a live performance.
All 5 of them were seen showing their nervousness and excitement as the time approached. In the end, all of them except SooBin submitted on time. The rest of them then told him that he would have to try his luck to see if the staff will be accepting fans on the spot.
After that, they headed to the gathering location and saw the list of names which were accepted for the live performance.
Apparently, Huening Kai was the first to have submitted his form, followed by BeomGyu, TaeHyun and YeonJun. SooBin's name was not on the list because he did not submit successfully in the end.
The 'fan manager' then appeared and asked them to show the light stick, personal ID as well as a leaflet to prove that they are a real 'fan' for the upcoming performance.
Despite being the first in place, Huening Kai was later told to move to the back as he did not bring his leaflet. YeonJun was also given a warning from the 'fan manager' as he did not write down his last name.
Many fans who were watching the episode found it relatable as in real life, they had to bring those items in order to get into the pre-recording and live broadcast too.  They also had to input their particulars exactly the same as how they are shown on their personal ID.
With that being said, fans had a great time watching the episode and could not wait for the next one which will be uploaded on May 21.
TXT will be releasing their 2nd mini album "The Dream Chapter: ETERNITY" on May 18.
Did you find this episode of "MMTG" with TXT entertaining?
Read More : TXT Asks 'Can't You See Me?' With Teaser Video, Fans Get Goosebumps Over 'Sad' Introduction